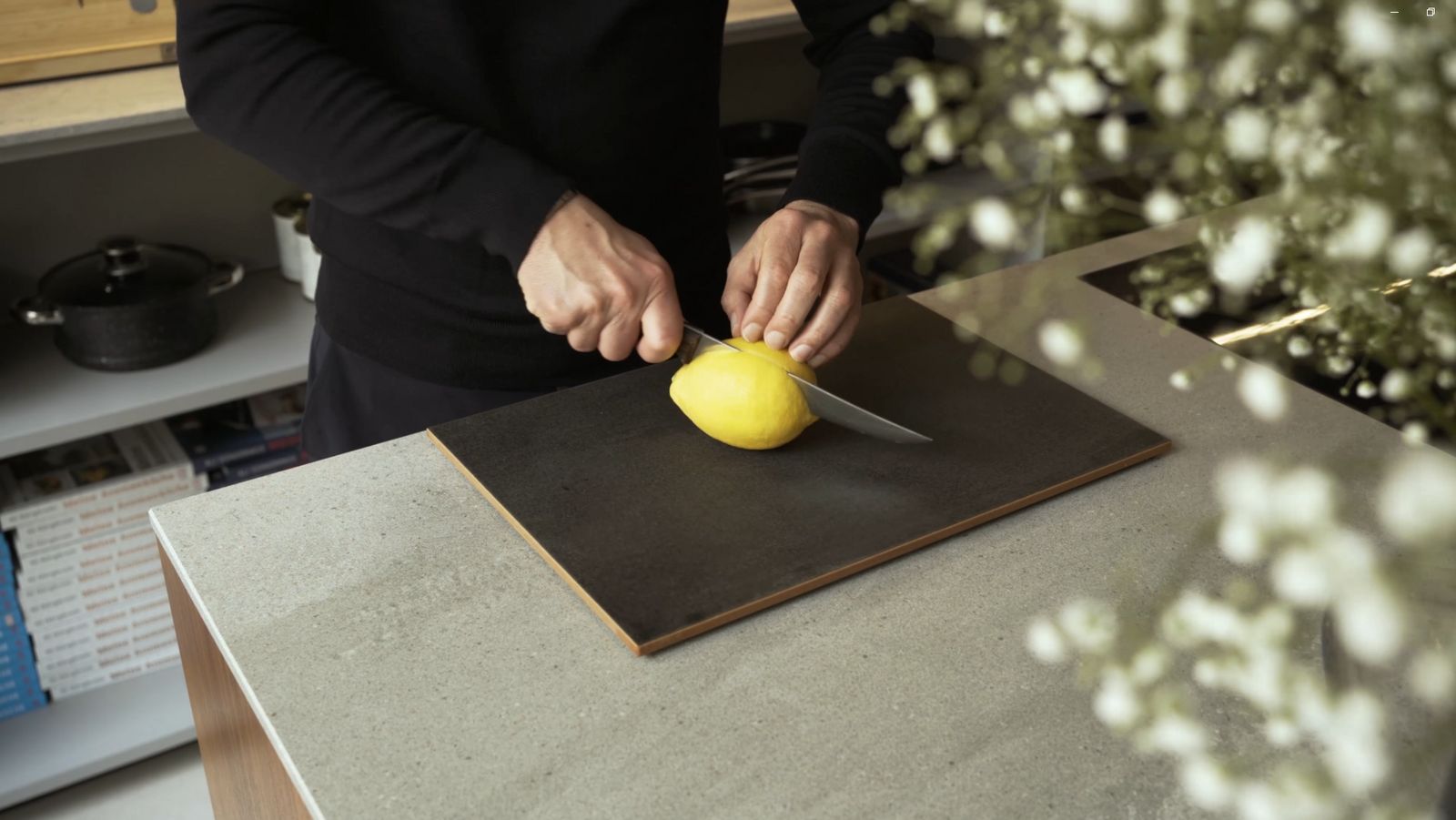 Kitchen tips from the pro chef
Ali Güngörmüş is well-known for his culinary creations. In our interview, the Michelin star chef gives us an exciting sneak peek into his kitchen.
Ali Güngörmüş reveals how his philosophy in the kitchen has long been characterised by his deeply rooted link to his home region of West Anatolia. Starting with the careful planning and organisation of his kitchen, we then see how he buys and stores food and how he prepares and cooks his culinary creations. His general rule is: "It's better to invest in good quality and be able to enjoy it for longer."
Kitchen planning
Extremely important to pro chefs
Ali Güngörmüş makes it clear how important the personal connection to his kitchen is to him: "It has always been my goal to have my own cookery school. And there, of course, I wanted to add a part of myself to the kitchen or room. I come from Turkey and wanted to incorporate a little oriental flair. A lot of wood and warm tones."
His preferences: "I had to have a kitchen island, no matter what." High-quality materials and plenty of easy-to-access storage space at the heart of its design make this pro kitchen perfect. But the small details are important too. Thanks to the ergonomic options offered by next125, all work areas – and even the oven – are ideally adapted to the height of the TV chef.
grid system for ergonomics
The big advantage of the grid system is that it enables flexible kitchen design with customised working heights and the perfect amount of storage space.
Perfect kitchen organisation
The must-haves for Ali Güngörmüş
If you take a peek at the inner workings of his cookery school, you'll soon see how tidy and minimalist it all looks. When you open a drawer, such as the large, carefully arranged knife drawer in the centre, you can see just how serious Ali Güngörmüş is when he says: "Order is incredibly important!"
Or when not long after he stresses: "I'm an aesthete. I need order!" The secret to how everything is so tidy in such a busy cookery school lies in the clever interior fittings.
With drawer dividers and Flex-Boxes, crockery, spices and cutlery are neatly stowed away so that a simple glance is enough for anyone to understand how Ali Güngörmüş is able to say without looking in such a comprehensive, full kitchen: "I know full well that the cutlery is in the top right of the drawer and the knife is in the top left." To avoid chaos in the kitchen, one thing above all is essential: right from the planning stage, you need to bear in mind your preferences, and that's how your kitchen at home can look like a pro cookery school.
Elegant wood – the English pull-outs provide clearly laid-out storage space.
Tips from the pro chef
Shop sustainably and store food correctly
Ali Güngörmüş puts his strong affinity with sustainability down to his childhood in West Anatolia: "We always lived sustainably, trying to use what the region had to offer, keeping things close to home. It's important to me that we be aware that the resources will be gone at some point. Nothing lasts forever."
On a small scale, that starts with plastic bags. Ali Güngörmüş' appeal: "There's no need to go shopping with plastic bags!" As a child, a string bag was enough, he recalls. Not only could it be used for longer but it was far more environmentally friendly. Any shopping must also have a purpose and so Ali Güngörmüş advises: "Think before you buy and don't buy too much or you'll end up wasting it and throwing it out."
Different fruits and vegetables can be found on the market as the seasons change, and that's when they're usually regional, as well as healthy, sustainable and economical: "Buy seasonal products!" Ali Güngörmüş recommends. Easier said than done, you might think. Especially when you've run out of recipes. But he even has a solution for that up his sleeve and advises us to be bold when it comes to using leftovers: "Just experiment!"
A kitchen should absolutely:
"Be used. It isn't a sterile place: it's a place where things come to life. Good food gives us power and energy. And very, very importantly, it is good for the soul."
- Ali Güngörmüş -
The premium kitchen of a master chef
Has that whet your appetite and aroused your interest in kitchen planning? Find out more here:
© Copyright 2023 next125 & Schüller Möbelwerk KG.
All rights reserved.