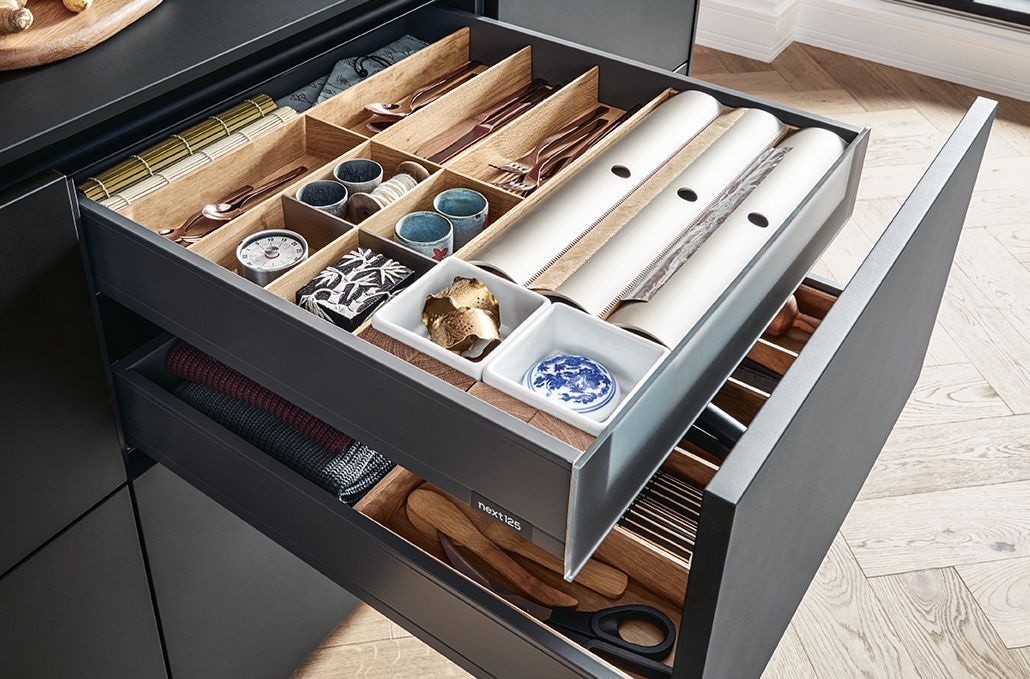 Primus
A perfect place for everything: With the Primus organisation system for drawers and pull-outs, rummaging around for kitchen aids is a thing of the past. It organises all utensils intelligently.

Efficiency in a kitchen depends on two things. Planning and equipment. When daily work flows determine the arrangement of the furnishings, then the result is furnishings with the utmost functionality: next125 Primus. Drawer inserts in different organisation variants and divisions for the drawer bring order into the inner workings of the kitchen.
Various partition frames for flatware and other kitchen aids are as just as practical as the removable china bowls or foil dispensers.
Function inserts

Drawer with kitchen roll
Kitchen roll for 3 rolls, 2 porcelain bowls and 4 napkin rings

Drawer with trivet for pans
Maple cutting board with trivet for pans, 2 porcelain bowls and 4 napkin rings

Drawer with knife block
High quality knife block-set with 2 porcelain bowls

Pull-out with lid holder
Pots can be stacked easily. Lids find hold and no longer chatter

Pull-out with perforated plate
The perforated plate allows for individual placement of the separating strips

Drawer with spices
12 spice jars are supplemented by 4 square porcelain bowls
Kitchen checklist
We know that many aspects are involved in planning a kitchen. With the exclusive next125 checklist you have a handy guide for preparing and organising all the requisite information and having it available at a glance for your discussions with a kitchen specialist.

Perfect interplay – the combination of the Primus organisation system with Flex-Boxes made from moulded non-woven material or solid wood for drawers and pull-outs.
© Copyright 2023 next125 & Schüller Möbelwerk KG.
All rights reserved.