Design & Quality
Design principles and production standards
Flexible and individual. Authentic materials, quality and perfection Made in Germany.
Design principles
Our aim is to develop exceptionally elegant kitchens. At the heart of our thinking are those who appreciate thoughtful design, precision workmanship and quality materials. It is for those that we create kitchens. Kitchens full of function and emotion. Proceeding from the values of Bauhaus, we combine craftsmanship, technology and architecture at the highest level. State-of-the-art series production enables us to produce excellent quality economically. Just one next125 kitchen unifies seven design principles: it is precise, elegant, creative, minimalist, functional, emotional and technological. We have been creating kitchens that are characterized by the special style of next125 in this way for almost two decades.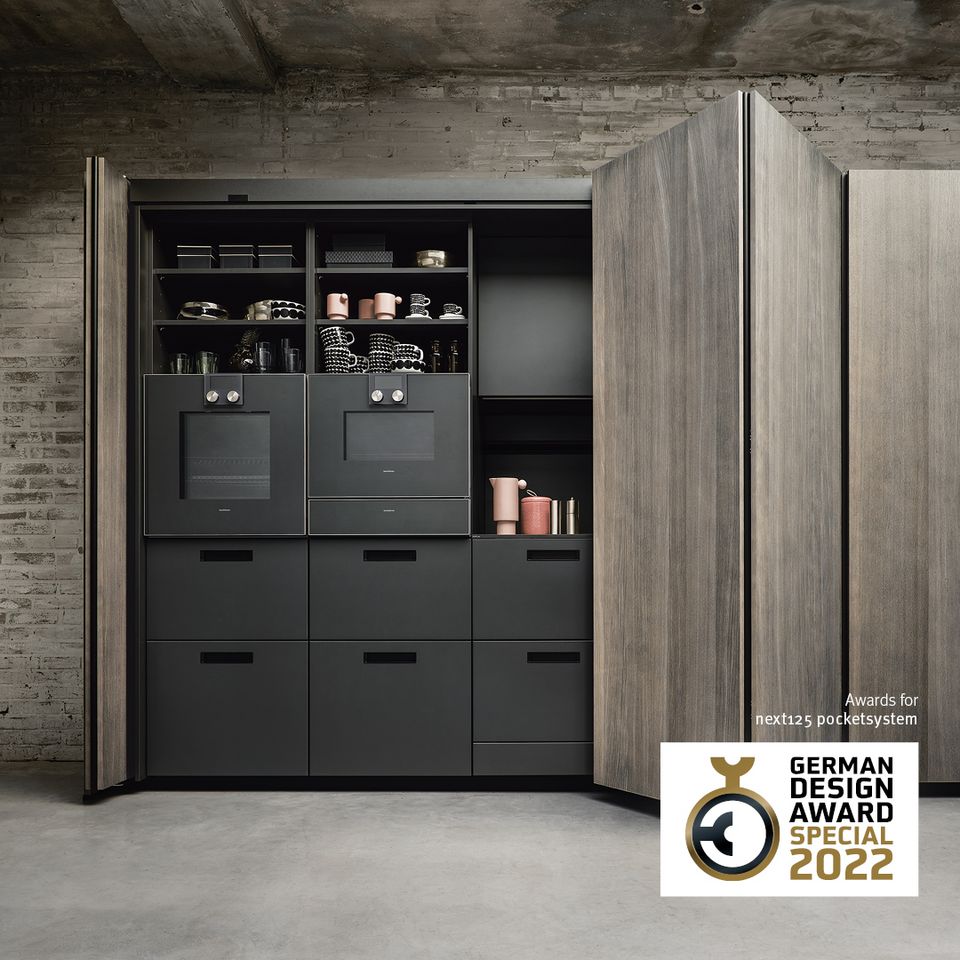 next125 pocketsystem
A cupboard that is a whiz at hide and seek. Closed it looks like household furniture, open it reveals its true range of functionality. All it takes is a light tap and the retractable doors spring open. Behind them lie the oven, steamer and much more – all beautifully hidden away.
next125 island frame
How can you make a kitchen island float? Simple: by giving it beautifully slender legs to stand on. The basic concept is to make the focal point of the kitchen weightless so it appears more minimalistic and cubic. This transforms the island into a standalone communicative piece with a floating appearance that accentuates the kitchen design. To achieve the sleek look, the island's frame uses a visually discreet design in onyx black. The legs taper outwards to emphasise the streamlined character.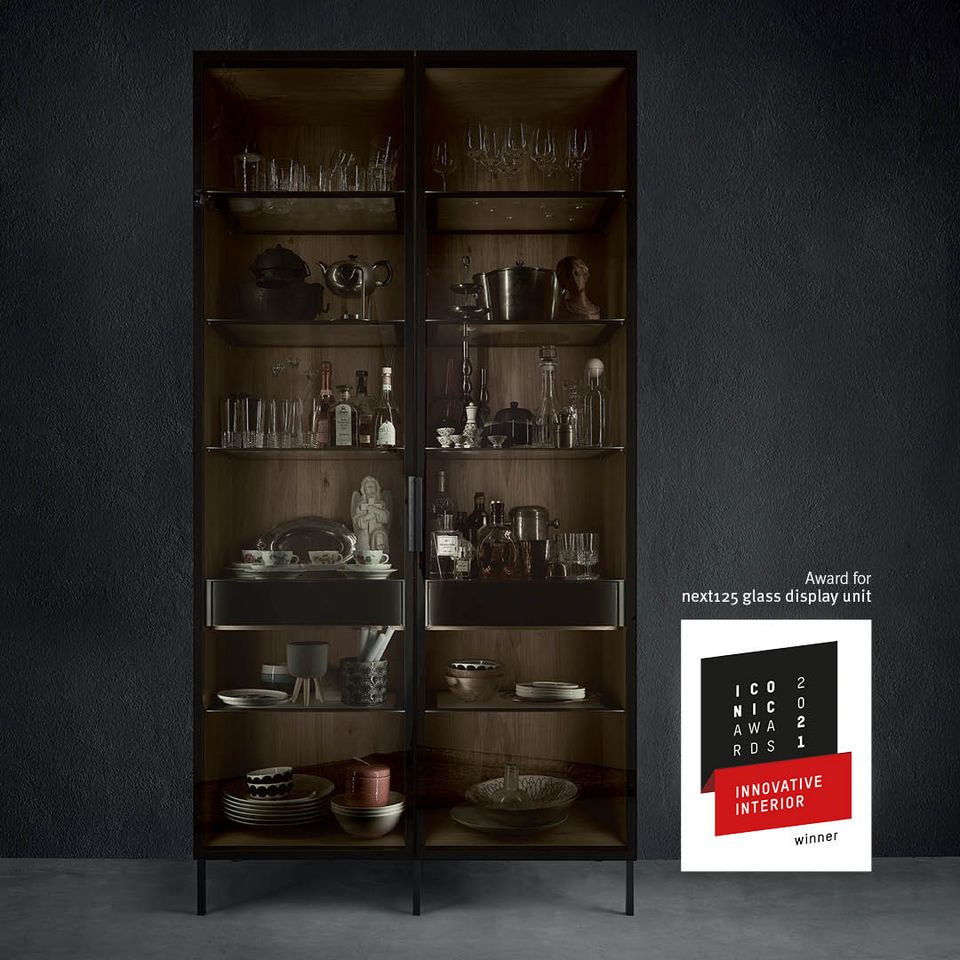 next125 Glass display unit
An eye-catching piece for any room: the beautiful display unit with satinated glass shelves and two practical drawers. The integrated lighting creates a very special atmosphere in the evenings.
next125 Trolley
The matt black metal trolley with compartments for bottles, glasses, herbs, spices and much more is suitable for use everywhere. Its practical shelf area for presenting and preparing things offers great storage space. Equipped with a metal handle, the trolley is easy to push around and perfect for any situation.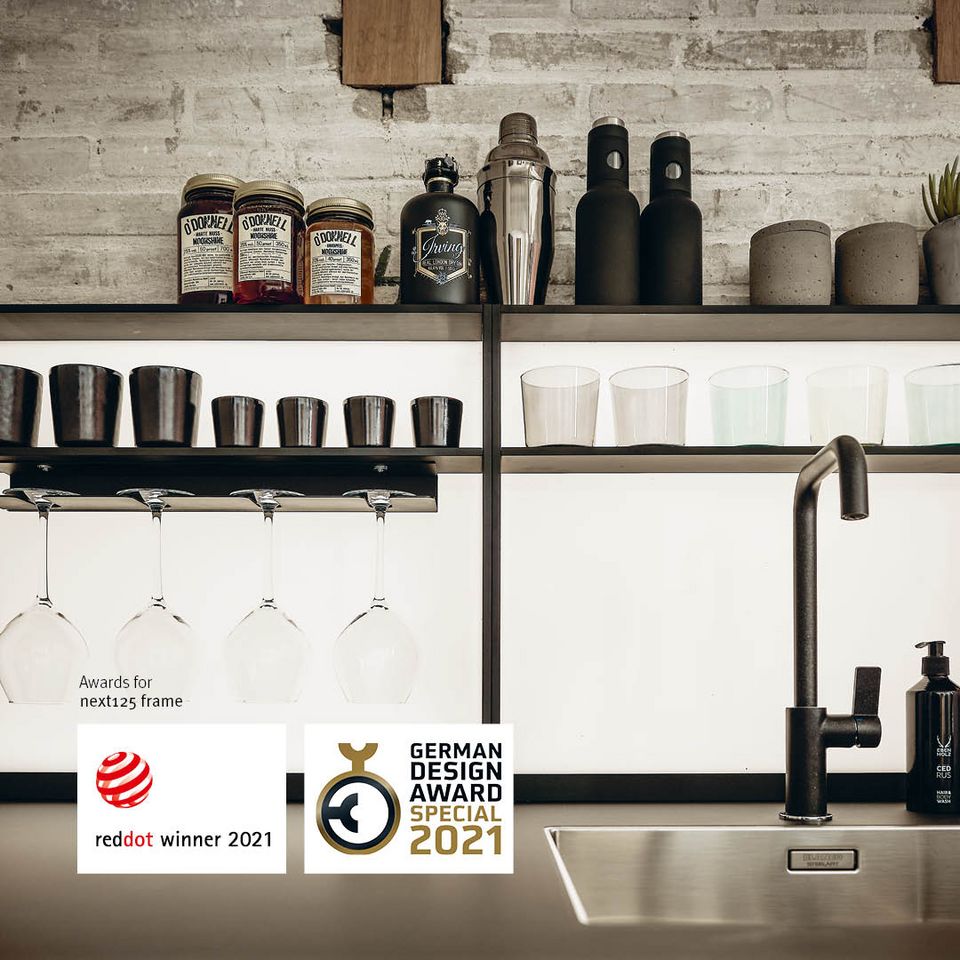 next125 Frame
'Frame' – a concept based on the notion of framing things. The system for recesses combines flexible organisation, perfect ergonomics and effective lighting to create a framework for new ways of working in the kitchen. It is the perfect choice when looking for variability, with six organisational elements available for customised combination.
next125 panel garden
What can be better than using fresh herbs to cook with? next125 has developed a solution just for this: the panel garden. This holder for plant pots is hooked into the recess system's intermediate profile. The integrated lighting helps herbs to remain fresh for longer. The lighting is controlled by a timer that leaves the light on for 14 hours and then switches it off for ten hours. Thus, you always have fresh herbs on hand. The panel garden is also available without illumination.


next125 flex-boxes made from moulded nonwoven material
Movable, extremely versatile and highly flexible – the next125 Flex-Boxes made from moulded nonwoven material. The material has a pleasant feel and softens the noises made by cutlery, kitchen utensils or china. Whether cutlery insert, plate rack or anti-slip mat, the Flex-Boxes can be combined individually. The material can be cleaned with a vacuum cleaner, wiped or washed in the dishwasher. The elements made from oak create an exciting material mix.
next125 ceramic front nx950
The next125 ceramic front is unrivaled in design. The ceramic panel is supported by a frame construction manufactured to a very high standard, the back of which forms an aluminium-coloured support frame. A solid aluminium edge encloses the panel on all four sides, protecting the slim ceramic sides and underlining the minimalist design. The rear of the front is finished with an infill panel. Ceramic is a high-density material that is also a popular choice for use in laboratory equipment on account of its resistance and hardness. The frame for ceramic and glass is now also available in onyx black.


next125 carcase height 87.5 cm
The new carcase height for greater design freedom brings with it more storage space – even though the new reduced plinth height has been introduced for design reasons, it is naturally a welcome effect, to gain space for an additional drawer or more height for storage space as a result. A further aspect is the homely feel of the low plinth. The plinth has the effect of being a shadow gap and, with its discreet height does not define the kitchen appearance.
next125 cooking table
The free-standing statement at the heart of the kitchen: the award winning cooking table from next125. Its inclined legs create a purist eye-catcher and elegant workstation. The hob disappears flush into the clear surface, thus allowing the clean lines to be shown to their best advantage.


next125 wall-mounted
Adding lightness to the kitchen – the idea of floating. This impressed a wide variety of juries: next125 mounted on wall opens up new design horizons and provides individualists unprecedented freedom in kitchen planning.
next125 cube
Everything in its place: cube adds new space to the principle of order – as an expression of consummate aesthetics. The motto of the modular cube elements is ordered, enclosed, tidy. A fascinating system that has won several awards since 2009.

Made in Germany
"As much function as is necessary, as much emotion as possible"
Made in Germany, broken down to Made in Herrieden – along the entire value chain. Now without claiming completeness: courage, passion, creator gene, country love, premium thinking, craftsmanship, art, technology, naturalness, production, administration, logistics, automation, process control, industrial high-end manufacturing, environmentally friendly painting lines, sustainable energy management, forward-looking kitchen design, meeting place, kitchens for life.
Only good things last. We therefore rely consciously on a high proportion of in-house production. Constant innovative product developments and improvements coupled with highly capable suppliers guarantee a valuable product. Achieving values lower than the prescribed emission limits for all materials and components is also a part of the high quality standard of the products. This is assured by the highly qualified engineers and skilled personnel in our QA department. For satisfied customers across the globe.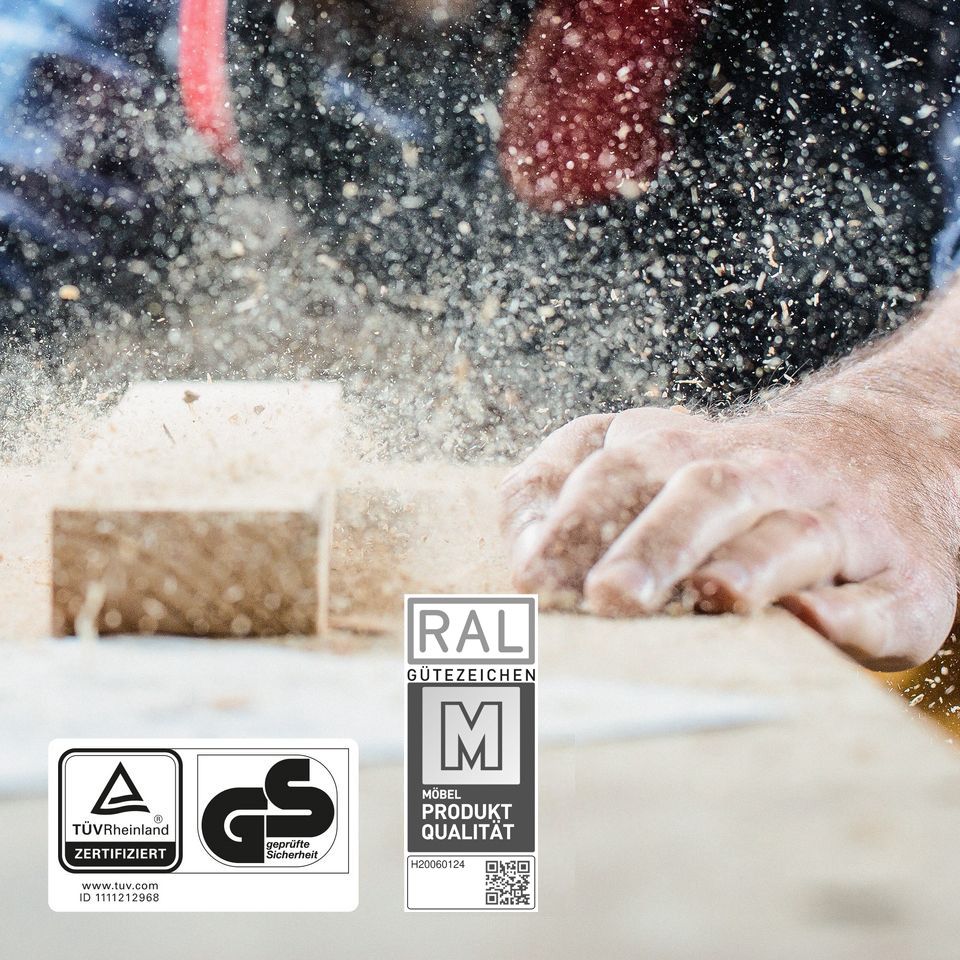 GS label of tested safety: the LGA Nuremberg furniture testing institute has tested our latest models for safety. As a result of testing, our product line-up has been awarded the GS seal of tested safety, certifying that the demands placed on ease and convenience of use, load-bearing capacity, material consistency and safety are satisfied in full.

Golden M: The "Golden M" is a mark of quality awarded by the Deutsche Gütegemeinschaft Möbel e.V. (German Furniture Quality Association – DGM) and is only awarded to furniture that is stable, safe, durable and well-finished – and it may not contain any substances hazardous to health. Continuous checks ensure that furniture carrying the RAL quality label satisfy the DGM's highly exacting requirements.
ISO 9001: Our kitchens have carried the QM certificate EN ISO 9001 for a number of years which governs customer orientation and process quality in respect of requirements and satisfaction with product and design. The LGA certification is renewed annually after testing.
ISO 50001: The energy management system introduced under DIN EN ISO 50001:2018 requires companies to reduce their energy consumption in a structured and systematic manner. Measures can be taken to improve efficiency by continusously recording and evaluating energy data.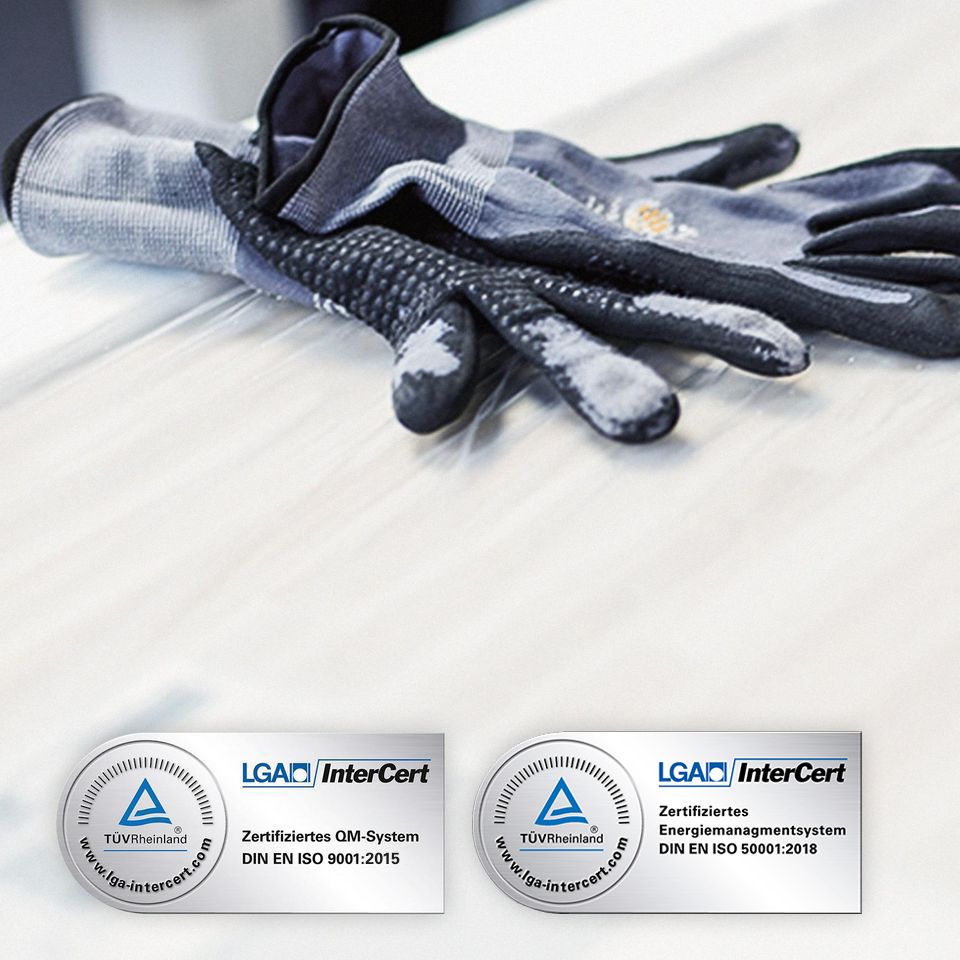 Design
character­istics
Design must fascinate. In terms of both design and technology. It must inspire enthusiasm and make working in the kitchen an emotional experience. The latest technical developments, innovative options and hidden values in next125 kitchens ensure that your kitchen also remains progressive in the long term.
Design characteristics

Metrical grid system 125 mm

next125 cooking table

Carcase height 75 cm

Carcase height 87.5 cm

next125 mounted on wall

Single line front look

Island Frame

Surface-flush design

Grip ledge

Mechanical opening system TIP-ON

next125 Frame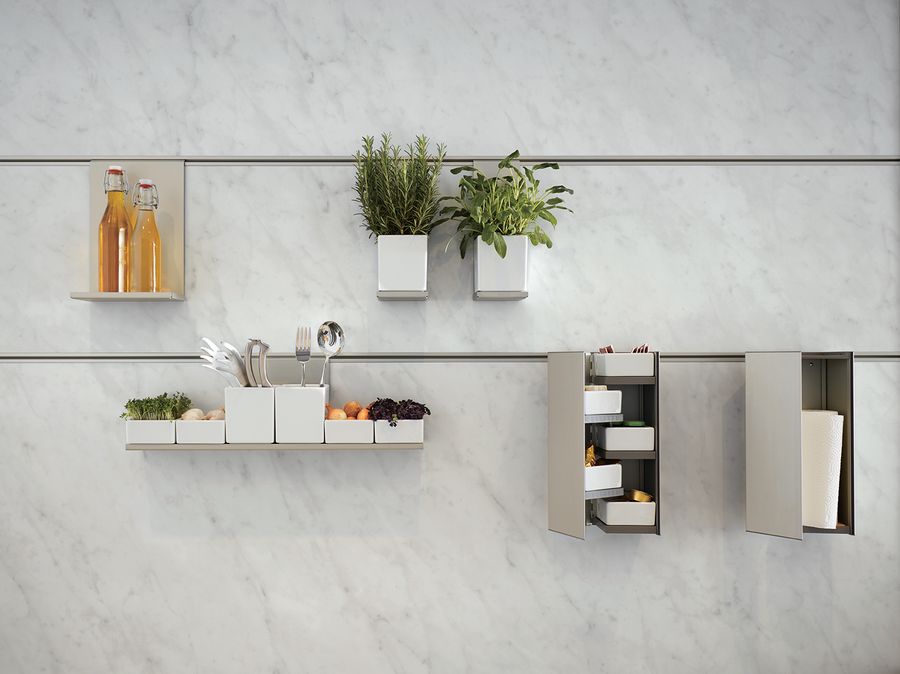 next125 cube

next125 Panel garden with integrated lighting

Double retractable door unit

Open shelf units with sliding door

next125 Sideboard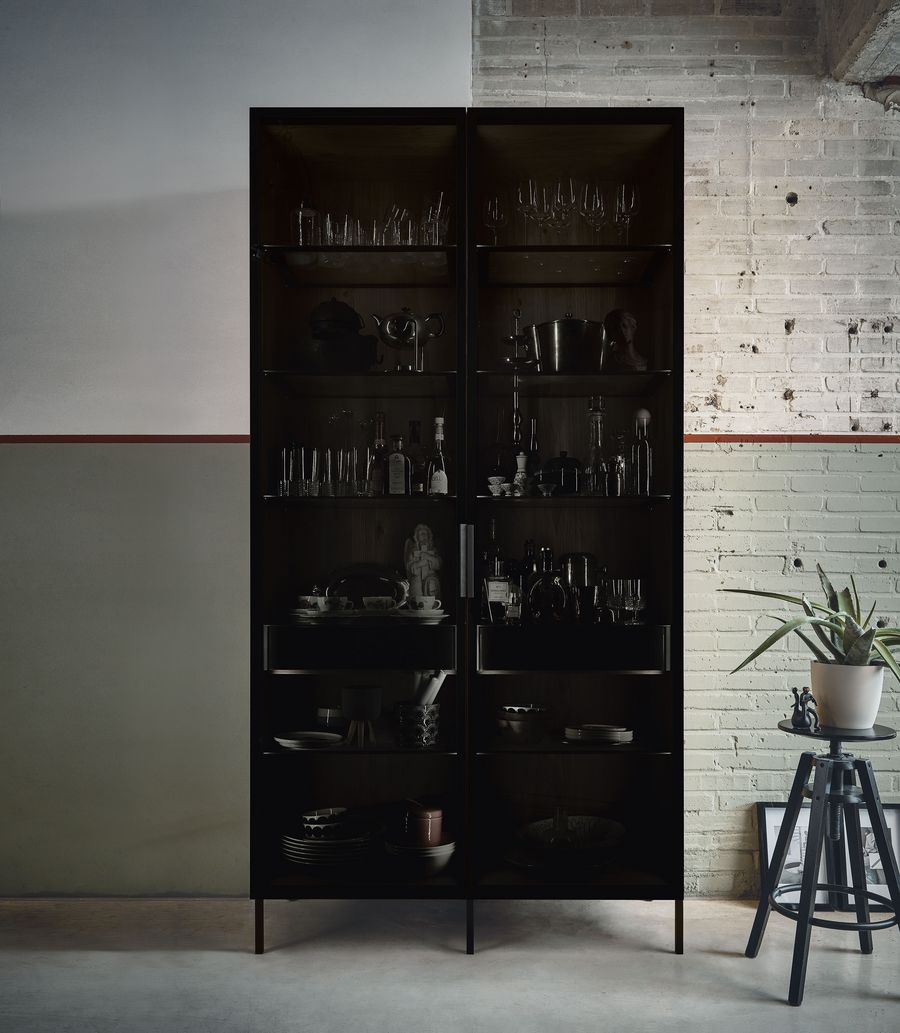 next125 Glass display unit

next125 Trolley

Slatted plinth

Flex-Boxes, natural oak

Flex-Boxes in mottled anthracite moulded nonwoven material

Internal drawer and internal pull-out front panels in glass

Carcase interior quartz grey

Carcase interior lava black

Base units with sliding doors

Open shelf base unit with pull-outs

Support panel open shelf unit 25 mm

Through-dyed laminate

Worktops and panels from 13 mm

Open shelf insert

next125 table & bench

Front supports panel

Wall units, carcase depth 56 cm
© Copyright 2023 next125 & Schüller Möbelwerk KG.
All rights reserved.