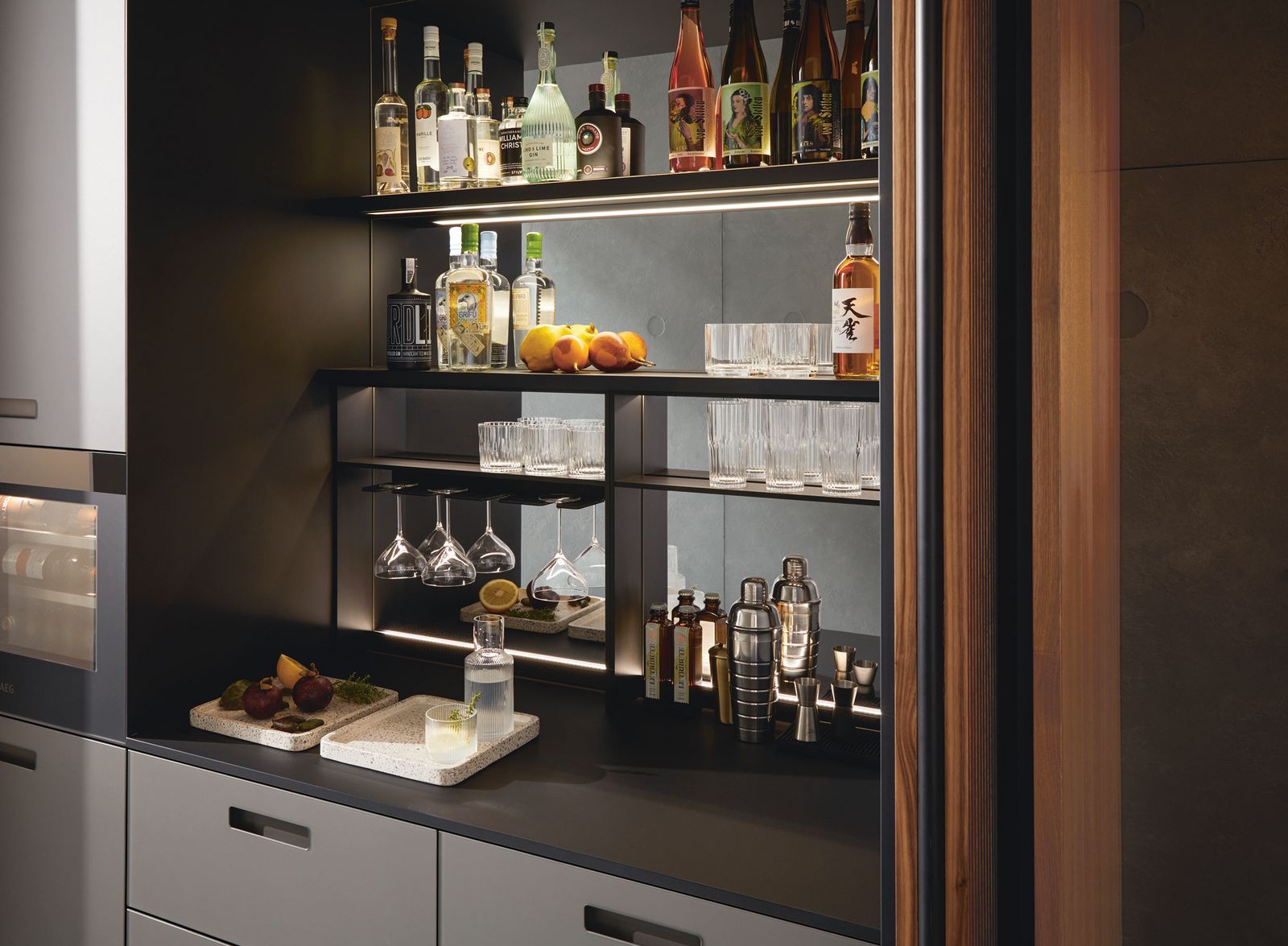 How to: three hacks for the perfect homebar
Whether you're looking for an attractive place to store your carefully curated collection of fine wines, whiskeys or gins, you like to enjoy an after-work aperitif with friends in the comfort your own home or you simply love big get-togethers, a homebar is the centre of every social gathering.
Depending on individual taste and the spatial conditions available, this can be discreet and understated or bold and striking with generous dimensions, eye-catching materials and unique textures.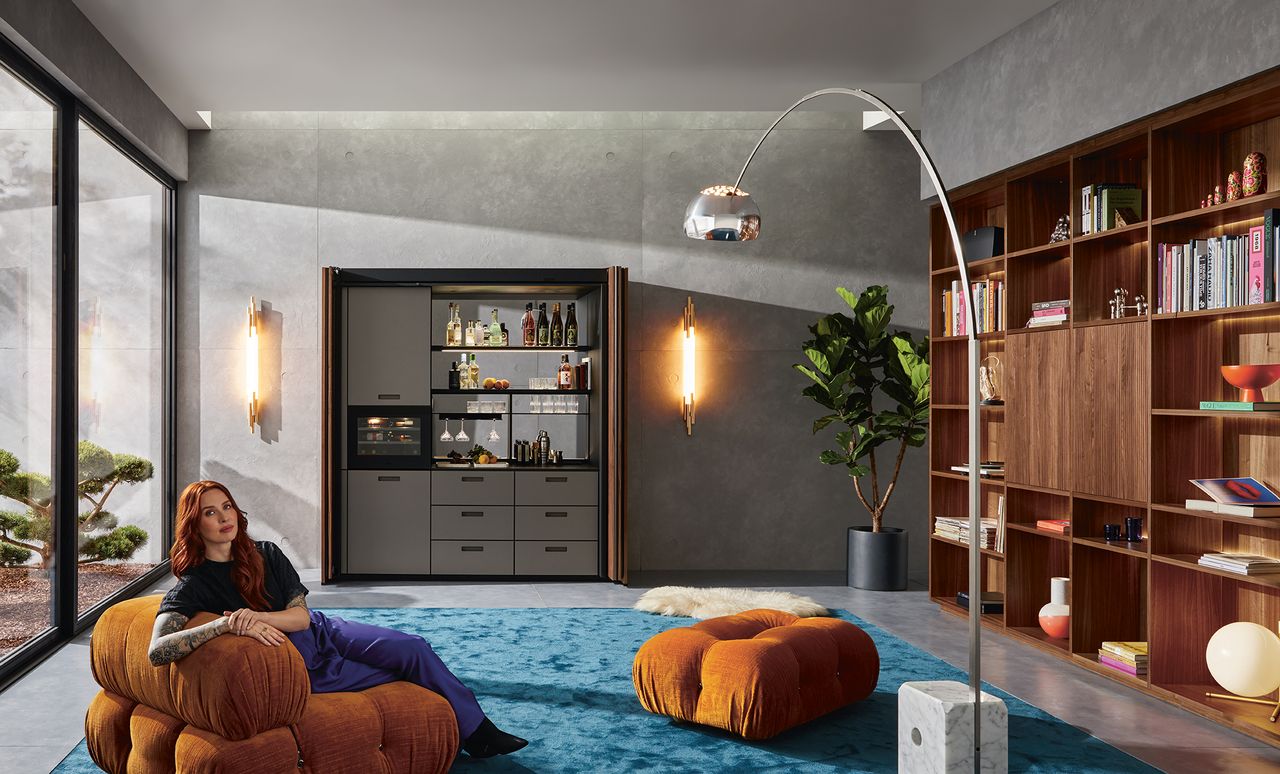 To ensure this area of the home guarantees fun and satisfaction through and through, it is worth clarifying your most pressing desires and key requirements in advance. As a result, nothing will stand in the way of endless hours of enjoyment. We have compiled a number of tips below to give you a little inspiration when creating your own personal design – cheers to a fantastic homebar!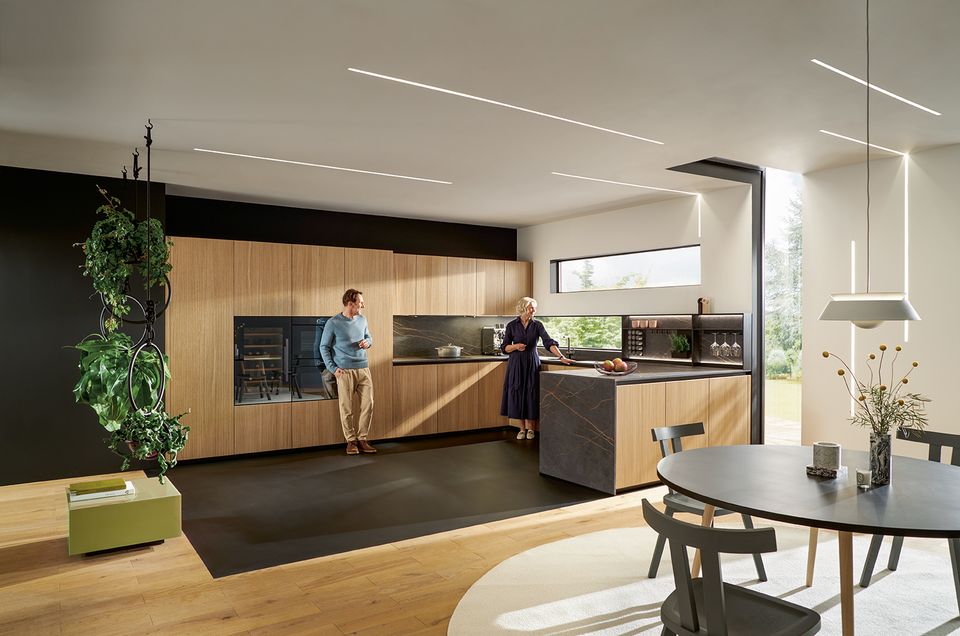 The first thing you need to determine is where exactly you're going to put your bar. You should run through several planning possibilities in your mind – and think creatively when doing so! Should the bar be integrated into the kitchen, would part of your living room be perfect for it or do you perhaps even have a completely separate room available?
If the bar can be designed as part of the kitchen, a large, open kitchen island with comfy bar stools for guests creates an inviting atmosphere. The pocket system, a cupboard with retractable doors that can be optionally fitted with a special bar section, provides the perfect home for drinks and accessories. An added bonus is that the fridge and sink are both nearby, making your life a lot easier.
But not every bar has to be a classic, fully equipped one: the various elements of the panel recess and cube system, such as the shelf or the wine glass holder, or the recess shelf Frame can be used to quickly conjure up a chic minibar in a recess.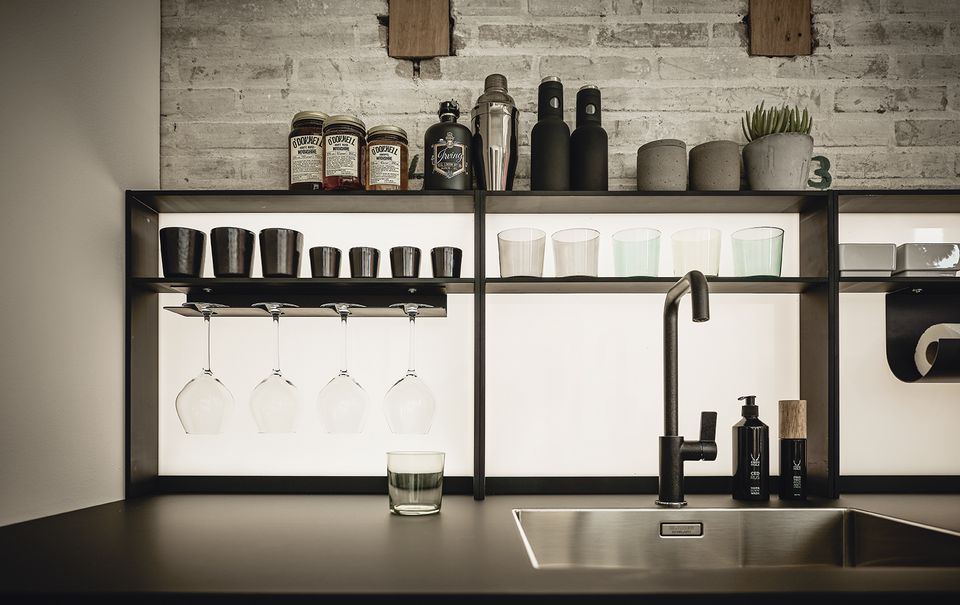 The various individual units available from next125 are also a great way to store bar equipment and drinks in the kitchen or living room. For example, the wall-mounted Framewall, a sideboard that is ideal for displaying fine beverages, especially in the version with an integrated tray and semi-open English pull-outs. The same applies to the next125 glass display units.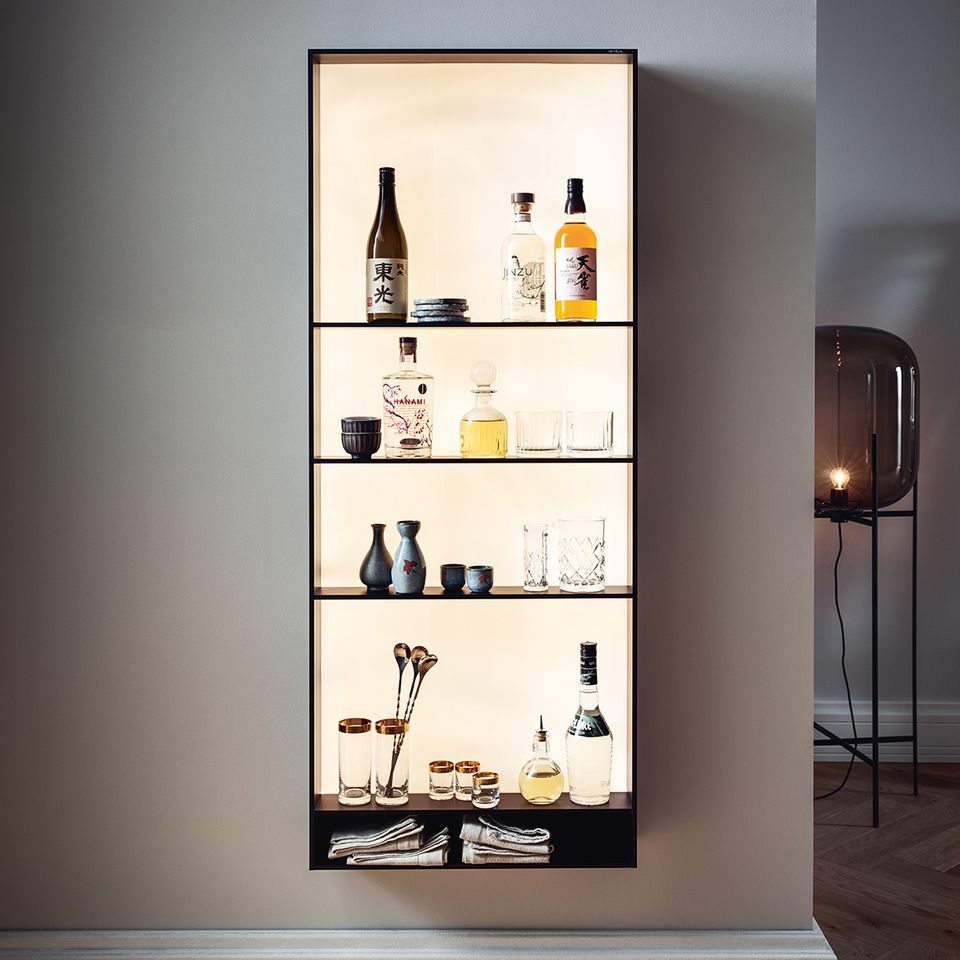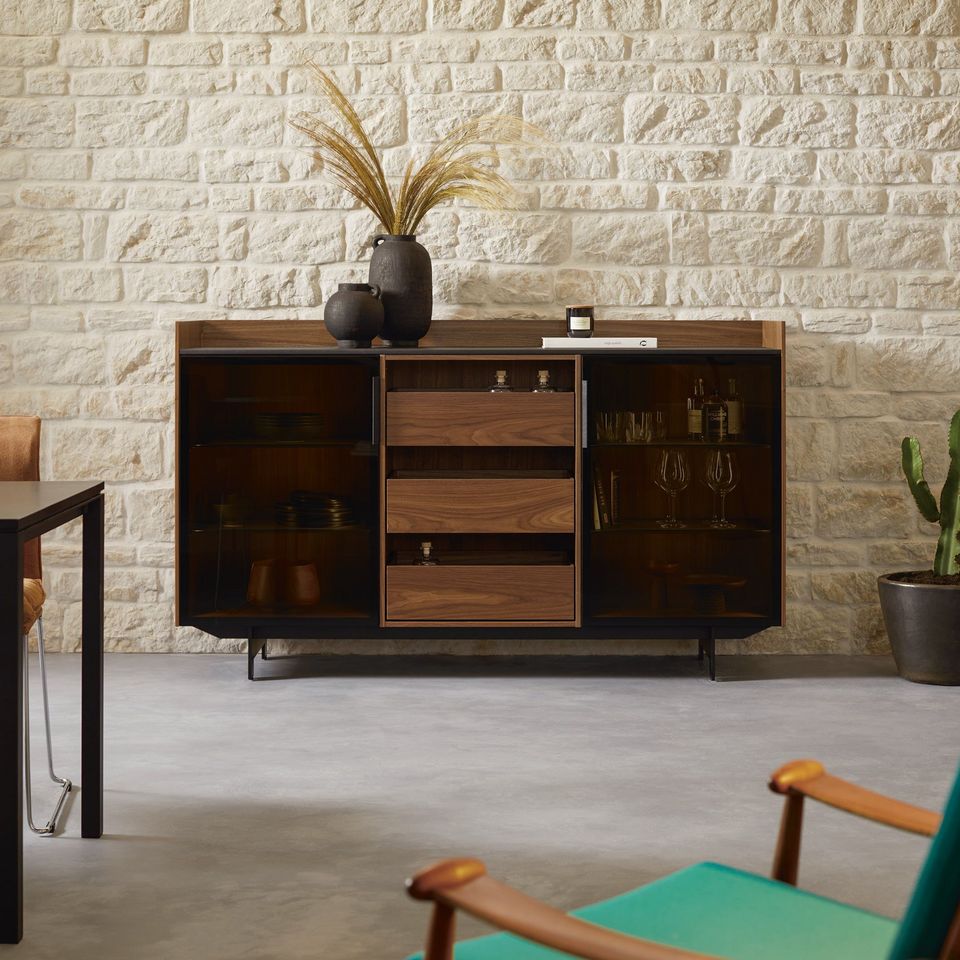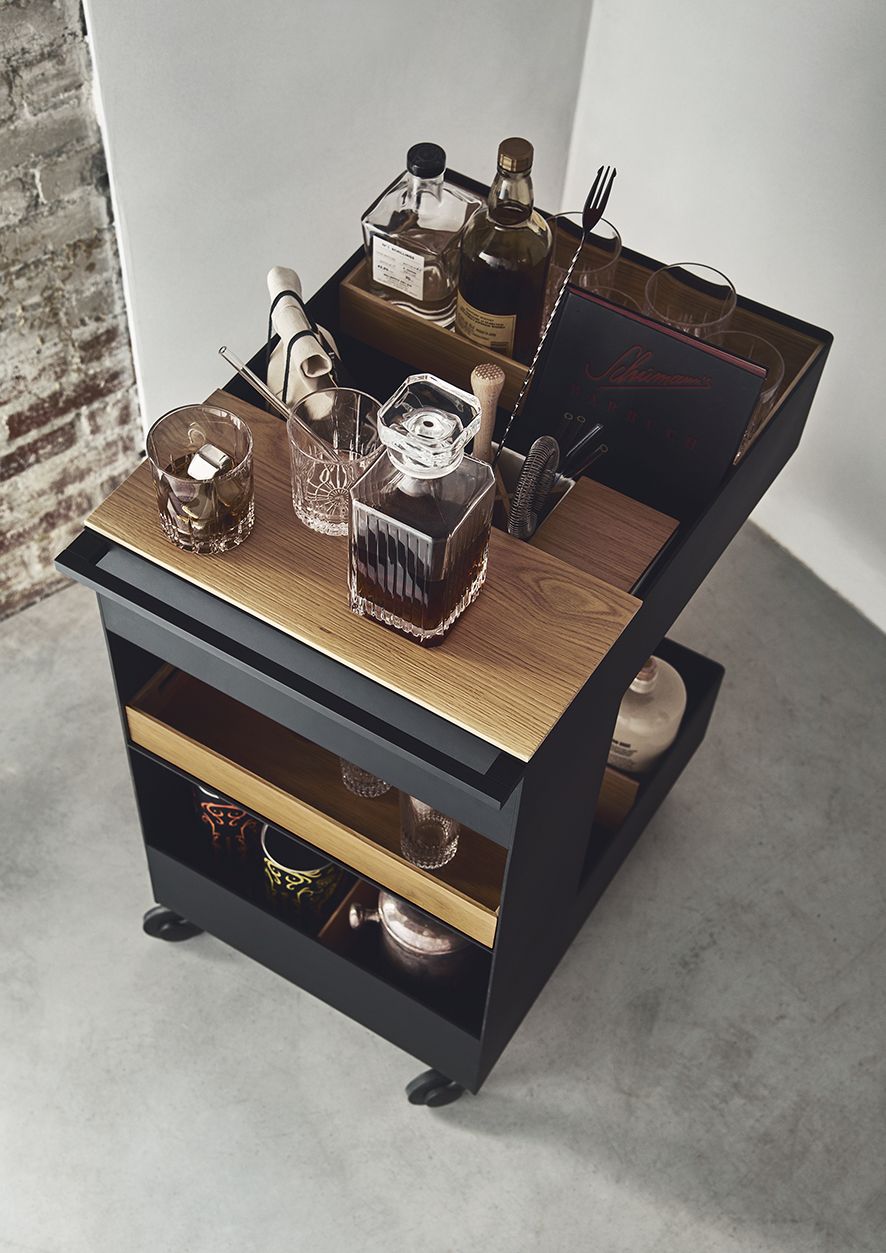 A flexible item that optimally integrates into the widest range of interiors is the trolley – with its compact design and its soft, parquet-friendly castors, it is always there where you need it, even if there is little space for a bar, and loves serving drinks straight to the sofa – the perfect mobile bartender!
2. Make your storage space dreams a reality
When creating the perfect homebar, storage space is key. Thanks to its generous dimensions and the wide range of customisation options, provided enough room is available, the pocket system is an ideal choice as it can accommodate all the items you need to store and hide everything away behind its large doors. With its sleek look and authentic, high-quality materials throughout, the system makes an ideal design feature for kitchens or eye-catching element for living rooms.
Available in a height of 219 cm and a width of up to 280 cm, the pocket system can be complemented by further tall units on either side for even more storage space. For a stylish design, it can be equipped with a bar section comprising a mirrored back panel, frame elements, lighting and floating shelves – a beautiful home for bottles and glasses!
The design of the area below or next to the bar section can be customised, for example with pull-outs or shelves. The integrated wine cooler is a particular highlight – and the perfect solution for storing fine wines and other drinks at the optimum temperature at all times.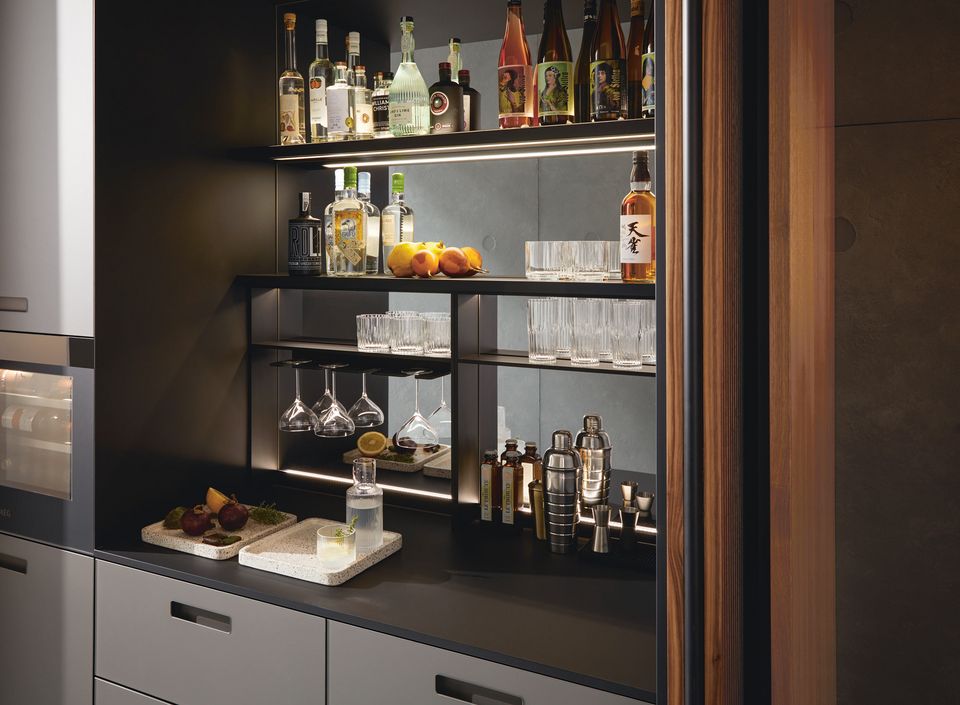 Last but not least, when it comes to the design of the drawers, the modular possibilities of the interior fittings – the practical Flex-Boxes made from oak or moulded non-woven material – make it possible to create flexible storage space, for example for drinking straws, spoons or herbs and spices. These elements also make wonderful additions to other items from the next125 collection, such as a sideboard or glass display unit. The trolley can already be ordered with a special Flex-Box bar fitting as standard. Design your bar with lots of flexible storage space – exactly how and where you need it!
3. Express your own style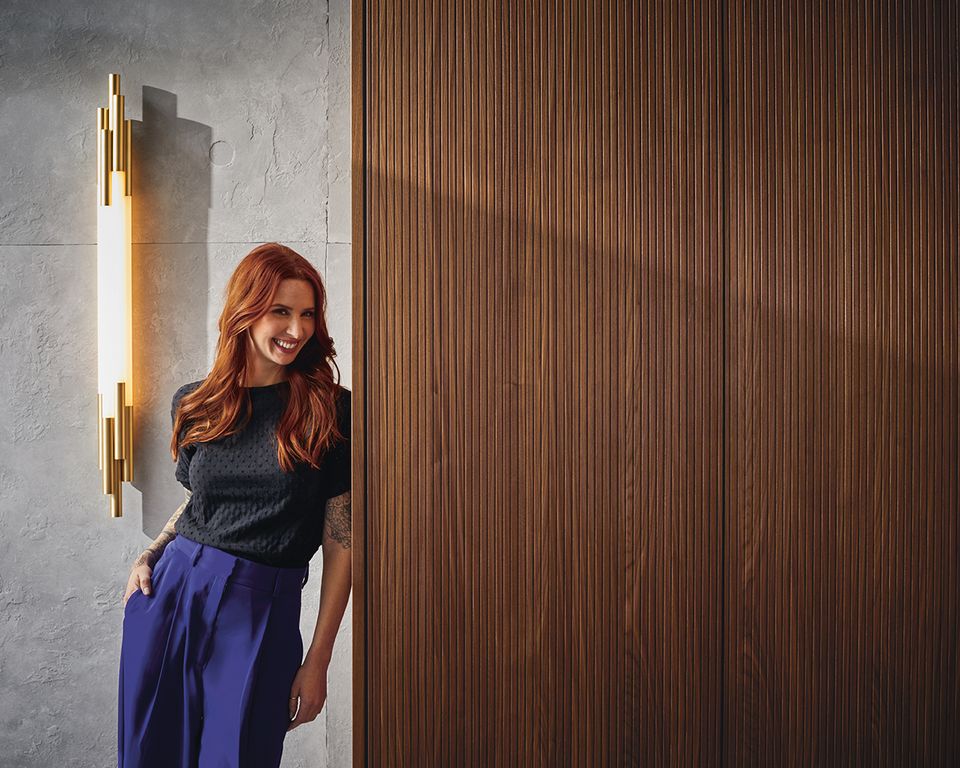 The 'perfect' homebar is not set in stone, but something very personal. For you to feel comfortable in it and spend many carefree hours there with your loved ones, the design should reflect your own style. The next125 pocket system in particular offers an extremely wide range of customisation options, so you can design the ideal bar cabinet for any setting. For example, the new wooden front with vertical grooves, available in two elegant versions of oak or walnut, creates a minimalist mid-century ambience and is truly eye-catching when the doors are closed. But ceramic and glass are also elegant ways of creating a customised cabinet. Those with a penchant for colour can choose their perfect shade from the 18 essential, elegant or extraordinary colours in the Colour Concept. It's also exciting to create contrasts between the unit doors and their interiors – whether crystal grey, olive yellow or azure blue, the choice is yours!
Ceramic or glass are two further elegant options for customizing the cabinet. Anyone who feels better off when it comes to color has the option of choosing the right shade from the 18 essential, elegant or exceptional colors in the Color Concept. Contrasts between the doors and the interior fittings of the furniture are also exciting – whether crystal grey, olive yellow or azure blue, what would you choose?
© Copyright 2022 next125 & Schüller Möbelwerk KG.
All rights reserved.