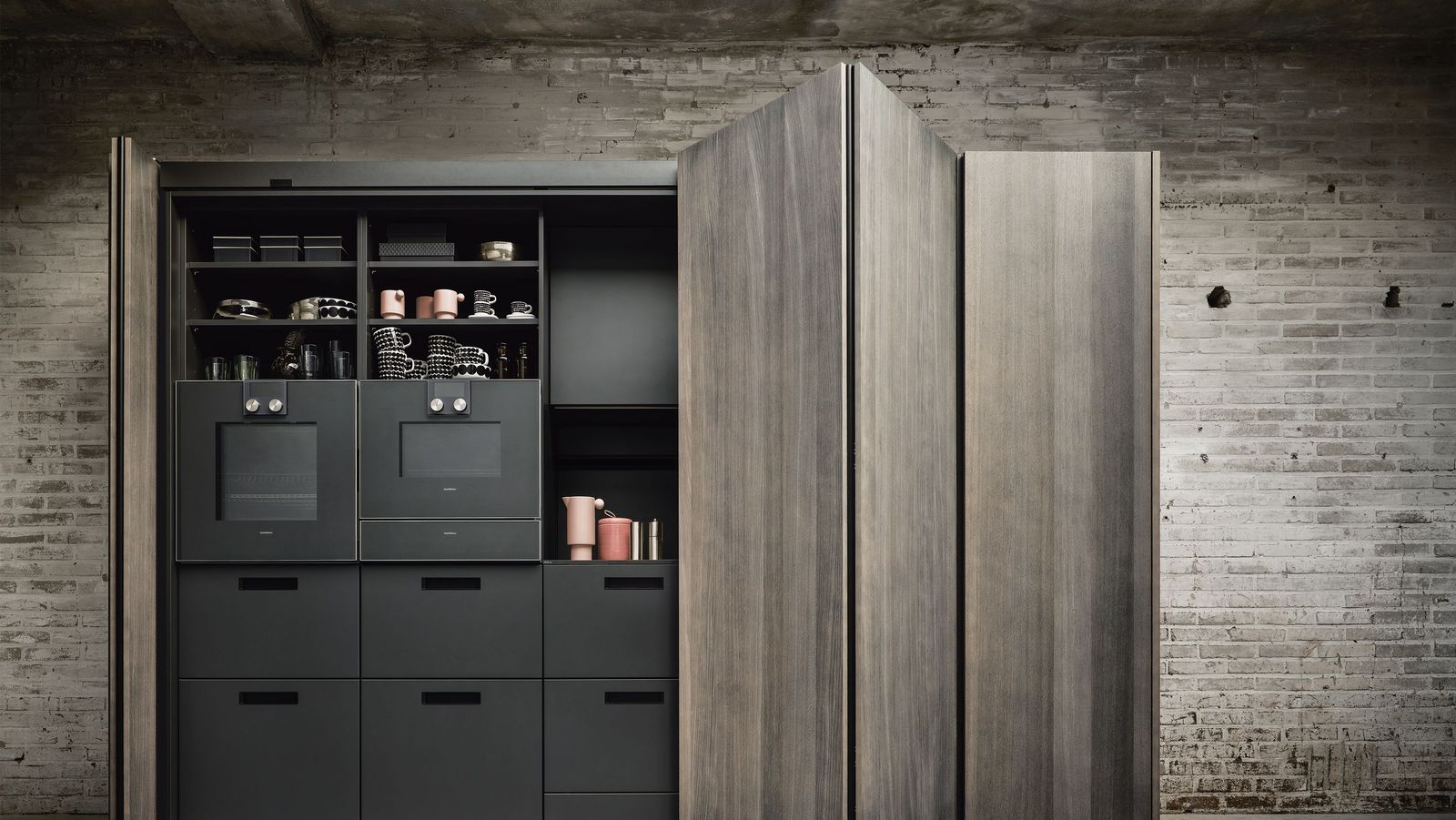 Pocket system
A cupboard that is a master at hide and seek
Open, close, open, close, open, close, . . . the pocket system turns the furniture into an artist of transformation, which sometimes functions as a home office solution, sometimes as a bar cabinet or can accommodate as many functions of the kitchen as desired, up to the fully functional pantry kitchen.
When closed it looks like household furniture; when opened it reveals its full functionality. A light tap and the retractable doors flip open, a light push and they disappear into the sides of the carcase.
Looks great even when closed. With fronts in cheerful spiced tones, the pocket system combines compact functionality and a homely effect with unrestricted cooking enjoyment. Even in small spaces or offices. With the next125 cube recess panel system kitchen appliances and storage space can be perfectly concealed behind retractable doors. At the same time, the recess is put to good use.
Drinks cabinet

Is there anything astray about a bar in the living room? In other words: why should things that belong together be kept apart? The next125 pocketsystem does not have a clearly defined habitat; it is at ease in any surroundings. And it fits in with any setting. More than that, it becomes one with it. The next125 pocketsystem ensures that the appearance of this new take on a cocktail cabinet is in sync with the residents' wishes.
iF Design Award for the next125 pocket system with a bar section
During the day, understated doors conceal the interior; at night, the mirrored back wall and LED-lit shelf add depth and grandeur to the room. A wine cooler offers deliciously tempered food and the drawers store everything needed for the favourite cocktail. These arguments convinced the jury: the IF Design Award honours the next125 pocket system with bar division in the Furniture category for the year 2023.
With two filigree frame recess shelves made of anodised, onyx black aluminium, a matt velvet lacquered support panel shelf and aluminium wall shelves of the same colour with dimmable lighting, the recess is transformed into an elegant home bar. The mirrored back panel showcases precious objects, providing a sense of depth and just the right amount of grandeur.
Home office solution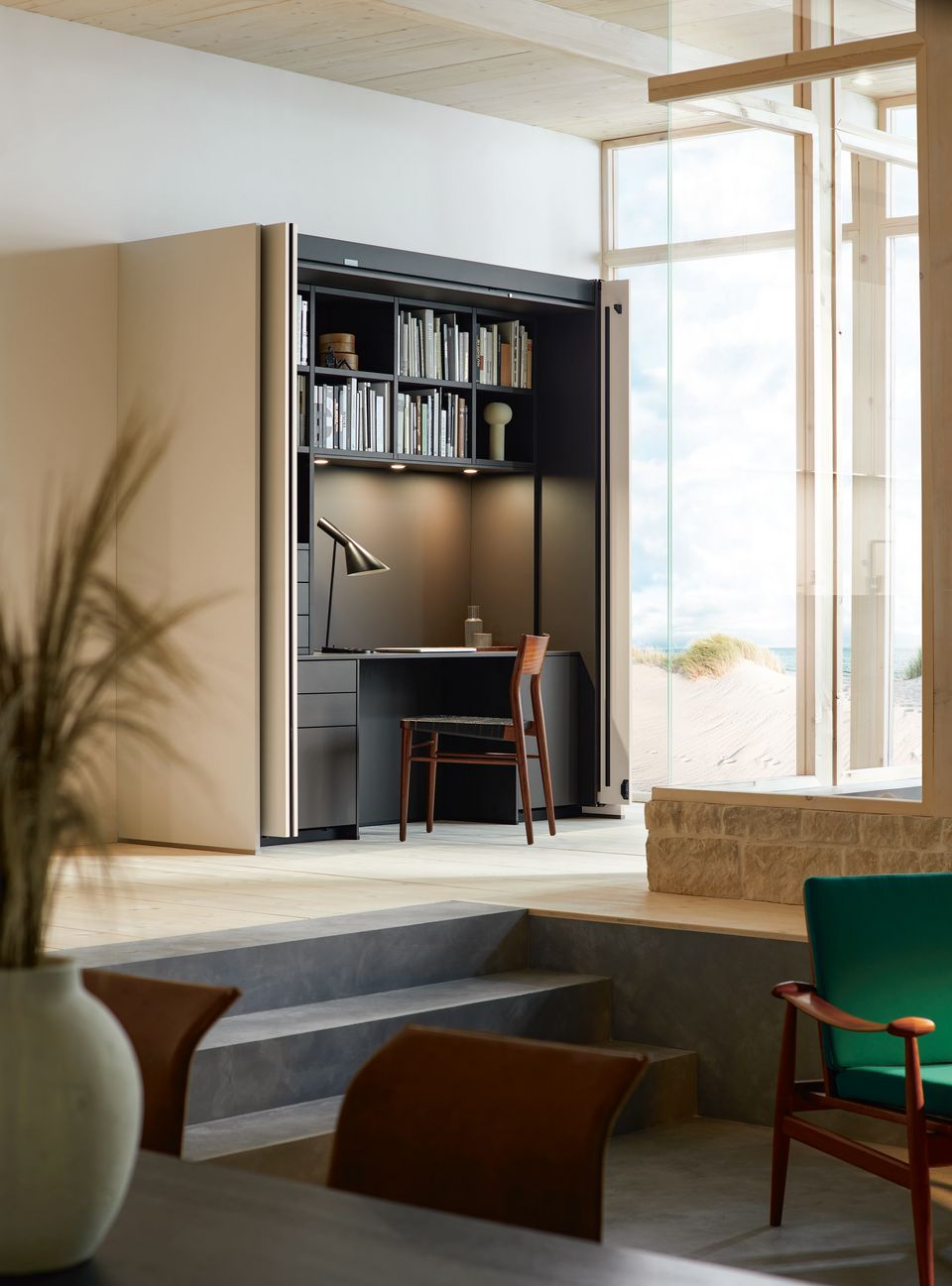 Company or home office? Work or leisure? Why not both? With the next125 pocket system you can do that any time. When opened up, the unit takes the shape of a compact office. When closed, it's a haven of tranquillity that's pleasing to the eye. If only it were so easy to switch off.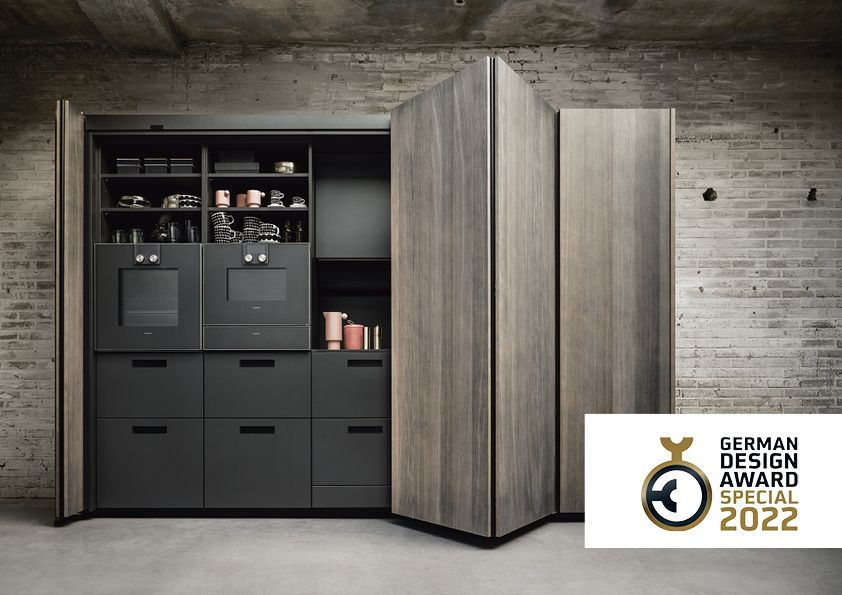 "Excellent Product Design - Kitchen" – The Pocketsystem has been awarded the German Design Award 2022
© Copyright 2023 next125 & Schüller Möbelwerk KG.
All rights reserved.