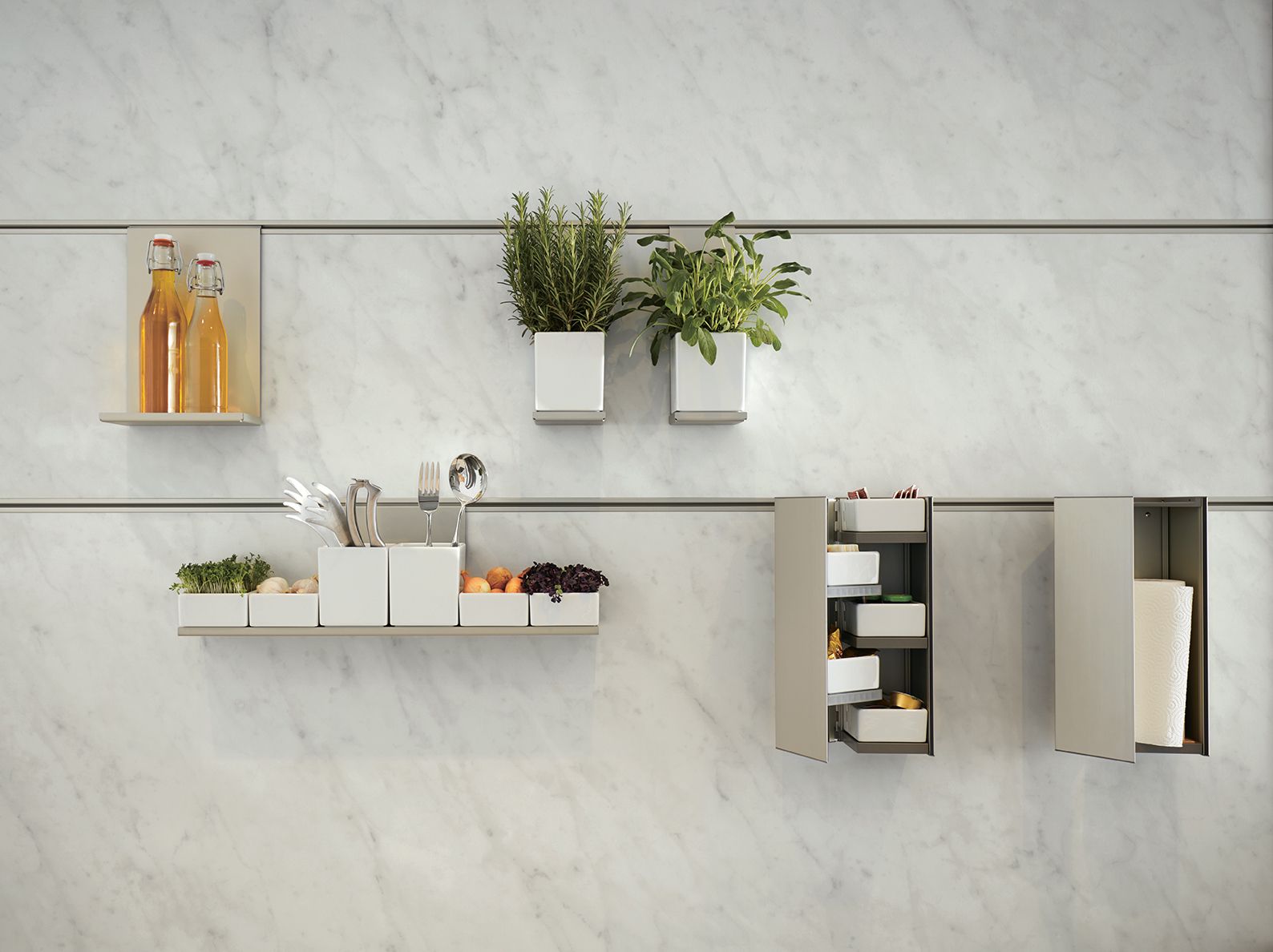 Organisation in the kitchen
An organised kitchen step by step
Discover practical tips and innovative solutions to get the most out of your next125 kitchen and make efficient use of every single centimetre of storage space.
A well-organised kitchen is not just visually appealing but also easier to cook in, saving you valuable time. The following step-by-step guide will give you tips and tricks on how to make optimal use of the storage space in your kitchen, with a focus on not only maintaining the stylish design but also skilfully highlighting it.
Step 1: drawers
Analysing and planning drawer space
Before you dive into organising your kitchen, you need to take some time to analyse it thoroughly. Identify the areas that are used the most and think about which utensils, appliances and foods you use most often. In your planning, include what organisational aids you can use effectively.
Step 2: tall units
Well-thought-out storage solutions in tall units
Storage systems specially developed for next125 kitchens allow you to keep clear lines and a minimalist exterior whilst making the most of your storage space. The tall larder unit with its tiered pull-out provides room for everything you need for your next dinner party. From smaller glasses to large containers: everything has its place. The contents of the pull-out come out of the unit in rank and file as soon as the door is opened – ready and at your service!
Accommodating – the helpful tall larder unit with tiered pull-out
Step 3: storage space
Creative solutions for small spaces
Even the smallest of rooms can provide storage space. A well-organised internal pull-out stores small utensils so that they are invisible from the outside but close at hand. This leaves surfaces free and ensures clear lines. The use of matt glass fronts for the internal drawers is not only a visual highlight but also allows you to see what's inside when the door is open.
Flex-Boxes
Versatile and flexible: smart arrangements for the inner workings of your kitchen.
Say goodbye to disorder in drawers or cabinets. The variable Flex-Box system brings order into next125 kitchen cabinets and keeps all your kitchen utensils tidy.
Step 4: workspace
Clever organisation systems in the workspace
Organisation systems play a decisive role in the efficient use of storage space, so you also need to think about the space above your base units. next125 cube efficiently uses the recess to keep all your kitchen utensils neat and tidy. The multifunctional panel system ensures that accessories are always close at hand. Group similar items together to have a better overview and give your kitchen a harmonious appearance.
next125 cube
The perfect addition for every kitchen; it establishes order and offers storage space where it is needed.
Use the panel system to personalise your kitchen planning. The system enables design elements in the recesses, for entire walls or for everything in between.
Step 5: wall units
Aim high with wall and top units
Don't forget the vertical space in your kitchen. Wall and top units can be used to create space that elegantly keeps the work surfaces free from things that you rarely use.
Storing and sorting
Discover the wide range of options – from functional flatware inserts to aesthetically pleasing storage units and innovative drawer systems.
© Copyright 2023 next125 & Schüller Möbelwerk KG.
All rights reserved.