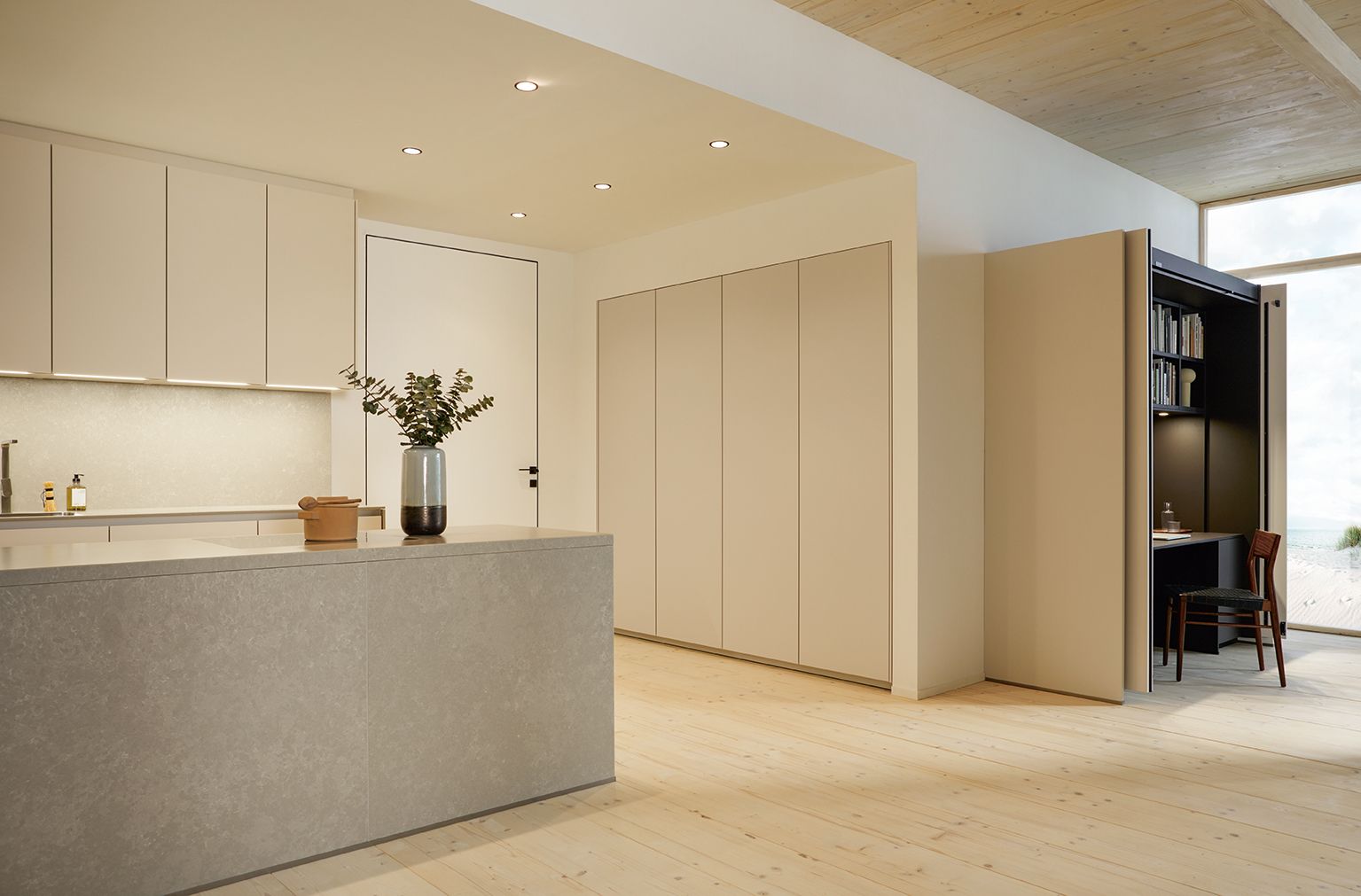 Neutral colours: on-trend kitchens in soft beige tones
Timeless, elegant beige is the ideal solution whatever your interior design preferences!
Combining white with warm shades of brown results in an elegant beige that perfectly suits all kinds of living spaces. Allow this on-trend colour to inspire you and find out more about why you should invite it into your home.
This natural colour is highly popular in many different interior design styles, whether Scandinavian, Japandi, country or the modern minimalist Bauhaus style of next125. It especially gives clearly defined shapes a natural, homely feel, making it one of the top contenders among the latest kitchen colours.
The perfect colour partner for a range of effects
Beige comes in a multitude of shades. These range from a light, powdery cream to sand through to earthy tones. A hint of yellow can add a pleasant warmth or a touch of grey can create a cool, contemporary effect.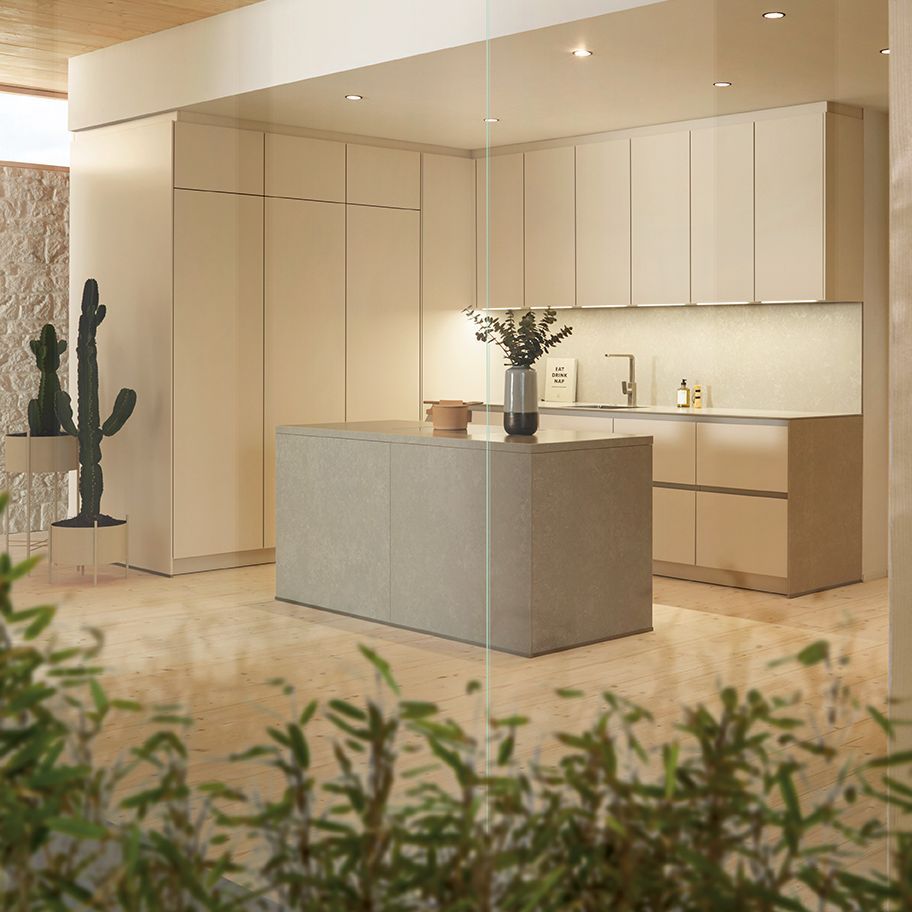 Light beige tones have a sun-kissed appearance and genuinely ooze warmth. They are therefore particularly ideal for creating a harmonious feel in individual rooms or entire living concepts where monochrome furnishings have been used.
The end result is an attractive uniform look and visual calm, inviting you to stay a while and relax.
Find out more about the NX510 with the seashell white matt velvet lacquer front.
In small rooms especially, beige conveys a sense of depth and prevents the room from feeling cramped by giving it breathing space. Beige furniture blends seamlessly into large, open living spaces, maintaining the ample feel of the room. Using related shades like browns or ochre can also add scope and depth to the colour concept.
Warm wood and cool ceramic are combined in the NX660. Find out more about this kitchen with its ceramic bianco beige island.
SEE NX660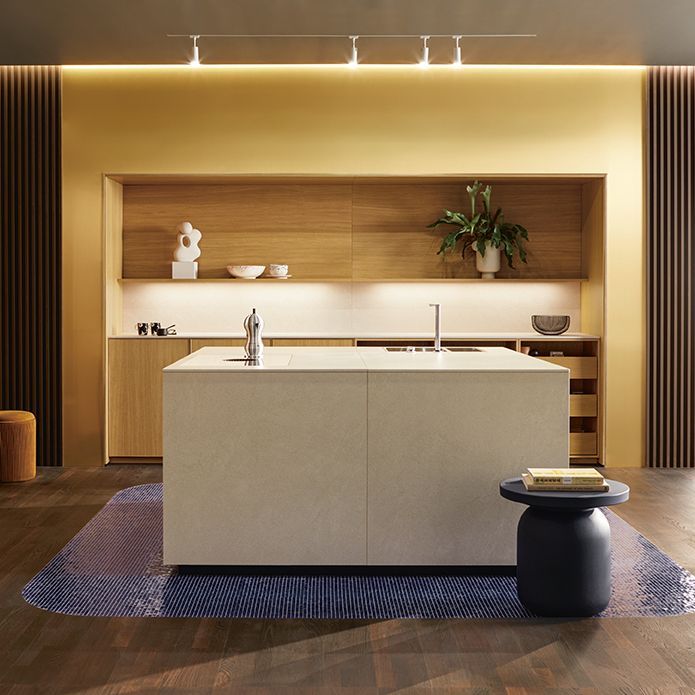 In the kitchen, beige is a wonderful complement to natural materials like wood, stone and ceramic. These materials add character to the kitchen and accentuate the natural look of the beige.
Beige – fantastic for highlighting the charm of natural materials.
Sahara beige matt velvet nx510 front – with black contrasts
Classic elegance
Content creator Tamara from the social media channel @casa.decarlo has opted for a dreamy combination of warm Sahara beige and pure onyx black. Be inspired by her kitchen and learn some handy tips on kitchen planning.
In a nutshell: beige is a timeless, neutral and subtle colour that provides an excellent basis for further room design. For those who like things a bit bolder, it is possible to add accents of brighter colours or combine and decorate with textured natural materials to form a contrast. Beige shades go well with a multitude of design approaches, meaning that they can be used in an infinite number of ways.
By and large, beige offers many benefits for contemporary home and kitchen design and transforms any room into a personal oasis of well-being. next125 offers perfect solutions for consistent, stylish interior design, always combining individual requirements with contemporary cosiness.
Like things a bit more colourful?
If you are toying with the idea of a colourful kitchen, we are happy to help: the next125 product designer Thomas Pfister has given us five tips on how to design a colourful kitchen.
© Copyright 2023 next125 & Schüller Möbelwerk KG.
All rights reserved.