Form
Flexible planning thanks to the design grid and clean lines
Thanks to the cubist design, the clear style and the carcase system, next125 kitchens are extremely flexible in planning. The form radiates calmness and structure and helps to develop the kitchen to transform from a workspace into the heart of the home.
Form at next125
The next125 carcase systems are based on the metric grid size of 125 mm. The advantage: a flexible kitchen design, working heights individually tailored to those using the kitchen, and the possibility of creating just the right amount of storage space. In combination with various plinth heights and various worktop thicknesses, the grid size also enables perfect adaptation to ergonomic needs. Furthermore, this architectural characteristic radiates calmness and structure.
At the same time, the modern design concept borrows ideas from the Bauhaus school: with its directness, next125 ensures clean lines. Cubist forms continue from the kitchen as a whole down to the smallest detail – for example in the division of the cutlery drawer or the practical Flex Boxes that help to utilize the storage space perfectly.
next125 also takes on the Bauhaus concept of living and working in one room: the kitchen has left the confines of its four walls and has become not only a workplace but also the centre of communication in the home. The appearance of modern kitchens therefore no longer differs from high-quality, purist living room furniture. Where does the base unit end and the sideboard begin, for example? Is the shelf still a part of the kitchen or is it already a part of the library? Technical appliances such as the oven are concealed behind elegant retractable doors. The free-standing cooking table combines the kitchen and living room, and enables the hosts to talk with their guests.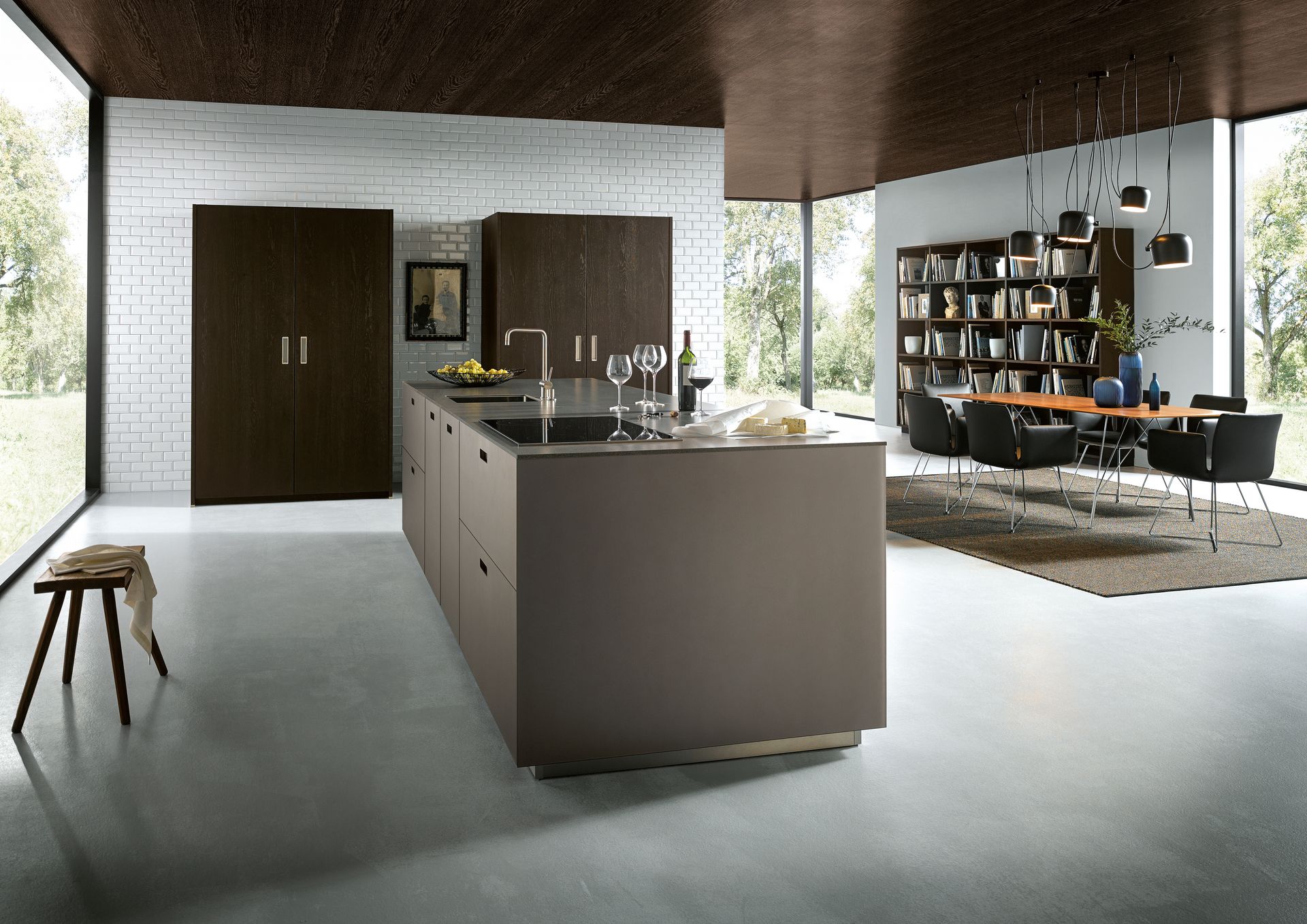 nx902 – the purist appearance and high-quality materials enable a flowing transition from the kitchen into the living room.
What is truly important? This central question has become the guiding thought of modern living and pervades throughout all next125 products: thanks to their reduced form, they blend into living room and kitchen. This is made possible by the carcase heights and the discreet front design: the cubist reduced form of the flush-planned worktop blends into the room with purism. next125 kitchens therefore impress with their quality, and invite you to limitless cooking and living pleasure thanks to their pure geometric form.
© Copyright 2023 next125 & Schüller Möbelwerk KG.
All rights reserved.