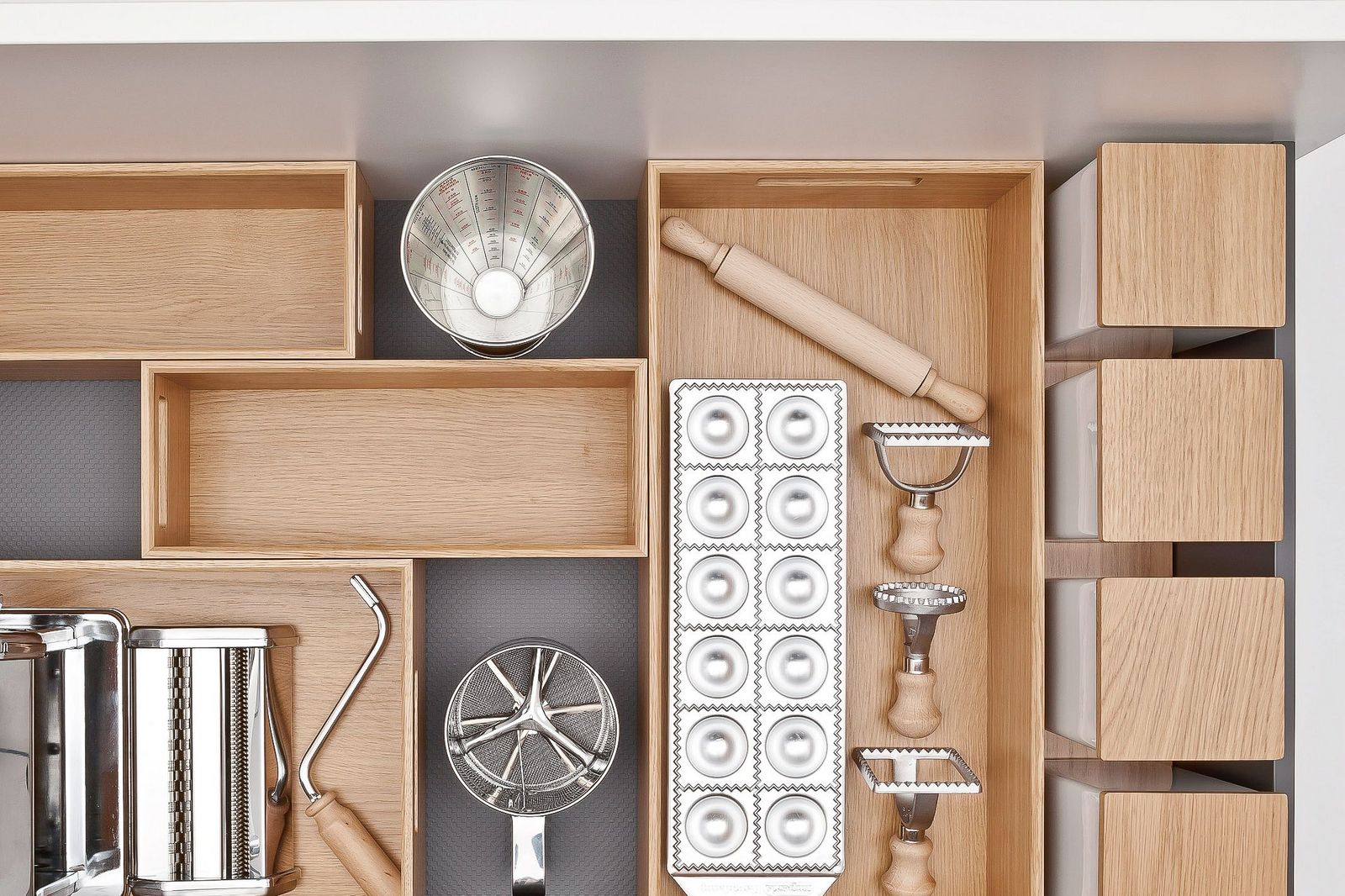 Storing & sorting
The reduced exterior of the next125 kitchen sets particular demands on its interior. To ensure that the exterior order continues wherever the eye does not always see, next125 offers modern and innovative solutions for storage and sorting.
Frame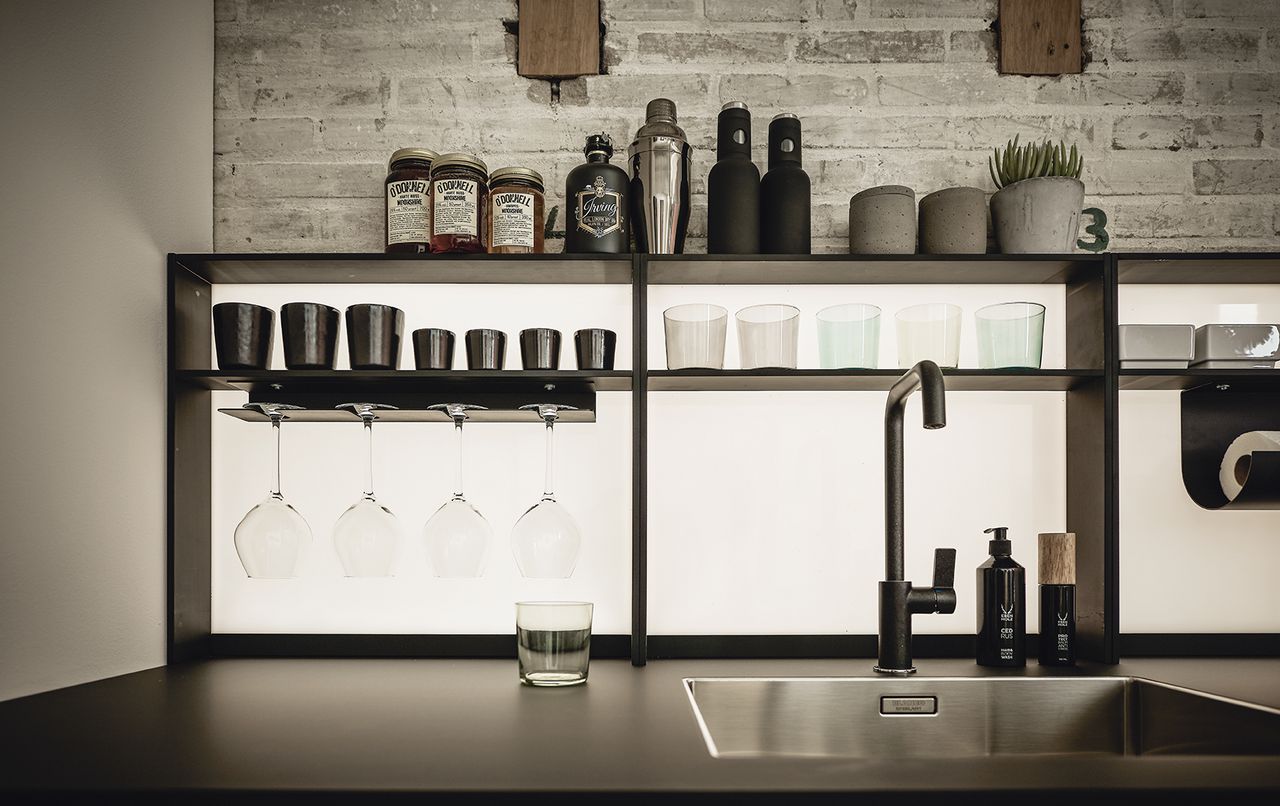 There are few instances where the principle that "Form follows function" is implemented as literally as with next125 Frame. The design combines flexible organisation, perfect ergonomics and effective lighting to create a unique kitchen experience. The light source is located at the heart of the action and illuminates everything beautifully. Six organisational elements can be flexibly combined to create custom designs. To this end, nine widths ranging from 30 cm to 100 cm are available, all with a depth of 13 cm. What makes the frame particularly special is that it comes with two types of lighting: linear LED light bands or flat lighting equipment. Anyone who doesn't want or need a light can equip the frame with other materials.
It makes work in the kitchen so much easier and quicker. Everything is instantly on hand. Practical solutions. Design meets function. The influence resulting from years of experience with professional chefs can be felt with the very first use. Kitchen roll to wipe up the mess – right there. The vegetable knife in the knife block - right there. China bowls in various sizes and practical shelves as storage space. Even spices, wooden spoons, olive oil and fresh basil – everything is within easy reach – next125 cube brings everything you need for daily cooking right where it's needed. Even notes and recipes are no longer forgotten, because next125 cube simply takes care of everything. Black on black is the new subject. Avoiding hard contrasts and creating harmonious combinations. In order to fulfil this zeitgeist, the profiles and cubes of the recess panel system are now also available in aluminium onyx black in addition to the aluminium stainless steel version.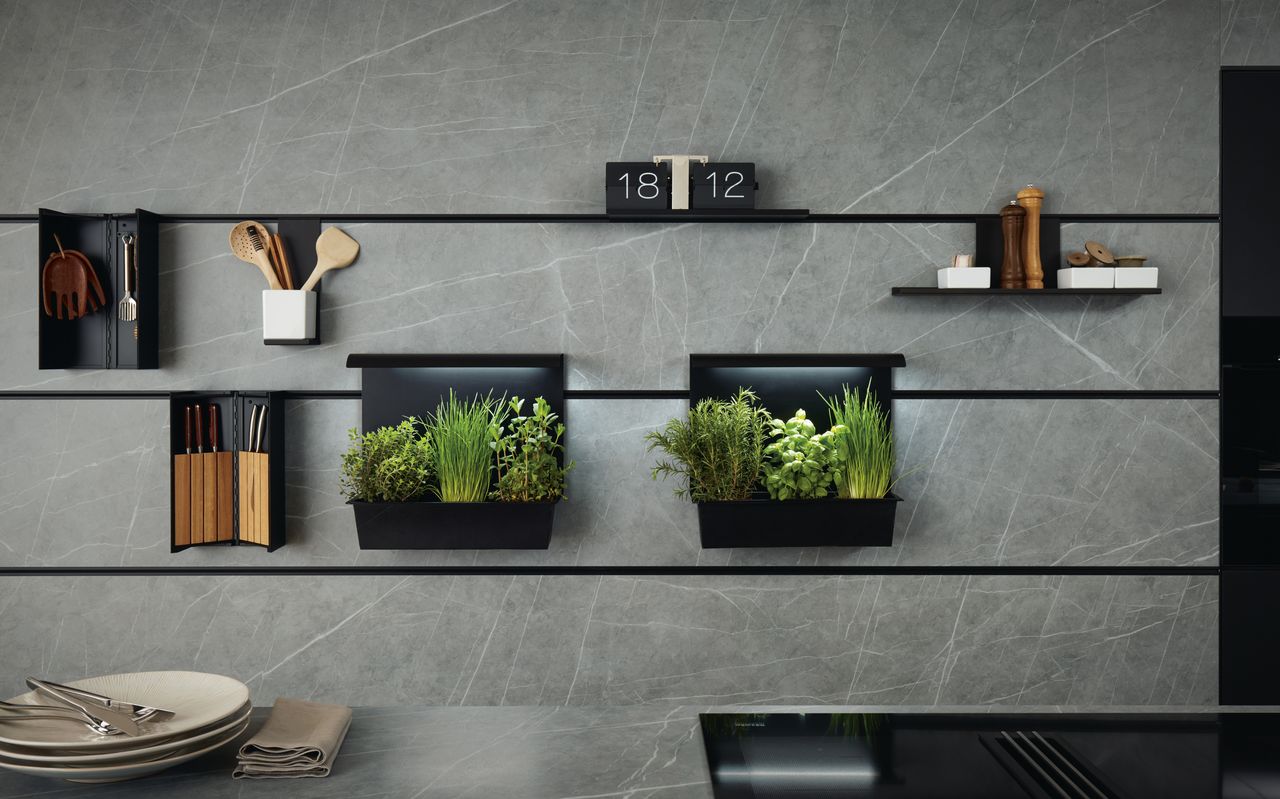 next125 cube in onyx black and panel garden with integrated lighting – what can be better than using fresh herbs to cook with? We have developed a solution just for this: The panel garden with integrated lighting helps herbs to remain fresh for longer – this makes particular sense in darker parts of the kitchen.
Flex-Boxes
Real wood and made from moulded nonwoven material
The practical Flex-Boxes of real wood are tailored precisely to the next125 units are extremely versatile and highly flexible. They can be stacked and moved around, and accommodate every last item. There is still plenty of room for pots and pans in the gaps that are created between the Flex-Boxes. When it comes to organizing and sorting, Flex-Boxes are also immensely useful in wall units and tall units.
A new idea for our drawers and pull-outs: our Flex-Boxes made from moulded nonwoven material. The soft non-woven material has a pleasant feel and softens the noises made by cutlery, kitchen utensils or china. There are 7 moulded nonwoven inserts that can be combined in any way to form an interior: cutlery insert, cooking utensil insert, knife block insert, small nonwoven box, large nonwoven box, lid for large nonwoven box, plate rack and additional anti-slip mats. The Flex-Boxes in oak can be combined ideally with the Flex-Boxes made from moulded nonwoven material as both types are coordinated in size. The Flex-Boxes made from moulded nonwoven material can be cleaned by vacuuming them, wiping them (with a damp cloth) or, if heavily soiled, by washing them in the dishwasher on an Eco 45 °C cycle.
Primus
Intelligent und variable
The intelligent, variable organizer system in elegant warm natural oak organises all kitchen utensils. Extra narrow frames, designed with clean lines, and a concealed under-base guide continue the cubist kitchen concept. Despite their feather-light operation, the pull-outs and drawers – for which a large range of functional inserts are available – are extremely strong.
Equipment
Versatile and innovative
The next125 equipment range features a wide variety of high-quality storage solutions. Thanks to modern technology and innovative solutions, these are equipped for the demands of the everyday. For example, the self-closing mechanism makes opening the full pull-outs particularly smooth and quiet. Well thought-out modules such as the tiered pull-out tall unit simplify the storage of provisions.
© Copyright 2018 next125 & Schüller Möbelwerk KG.
All rights reserved.