NX 510 | NX 640
A kitchen with clear lines and lots of personality
Less is more. For maximum effect, the elegant, minimalistic kitchen is integrated into the space with an open-plan design. Bare walls, concrete galore and an interior with almost no doors create freedom and provide the necessary air to breathe.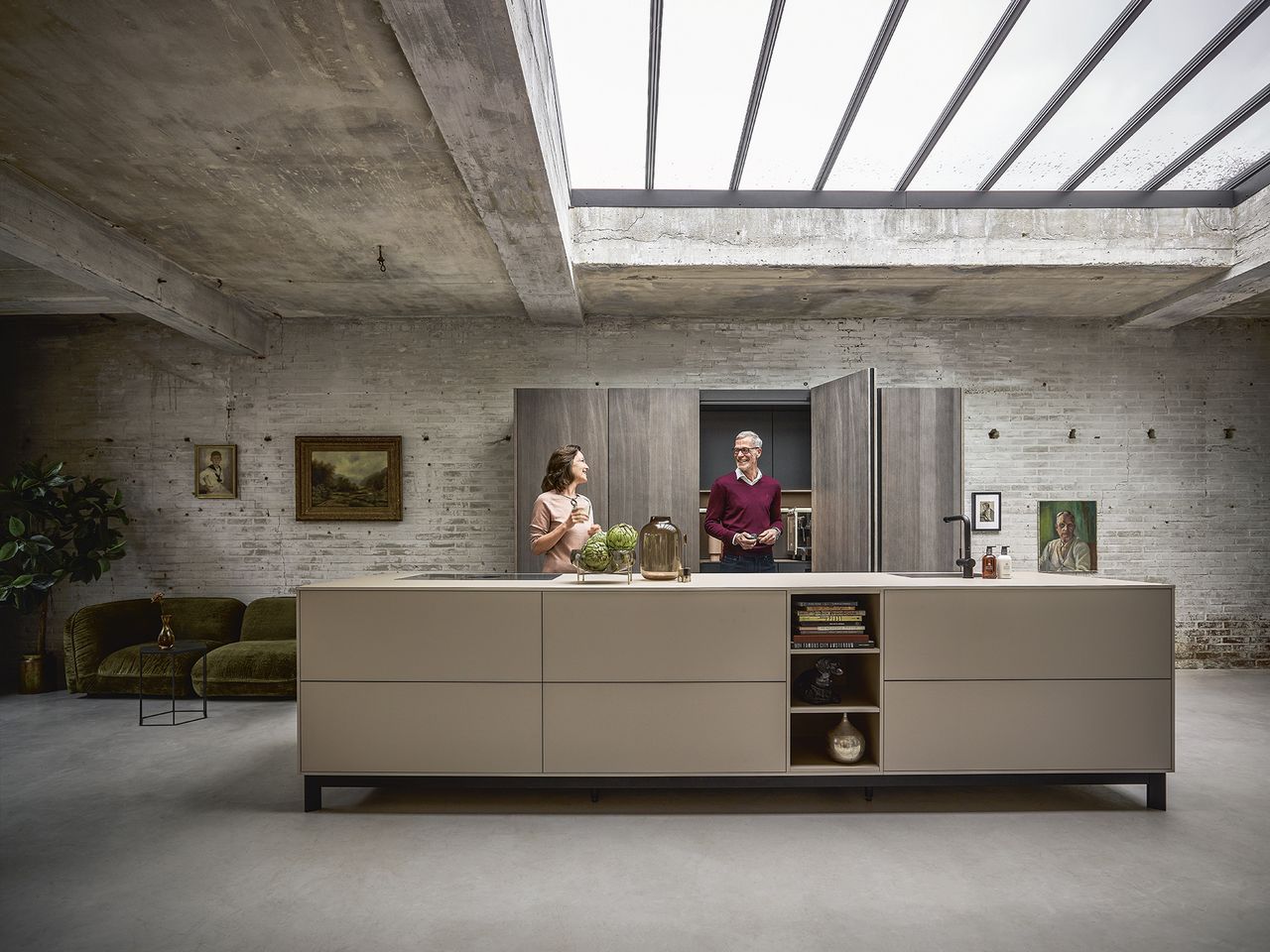 Details
cooking island | Pocket system | Flex‑Boxes | display unit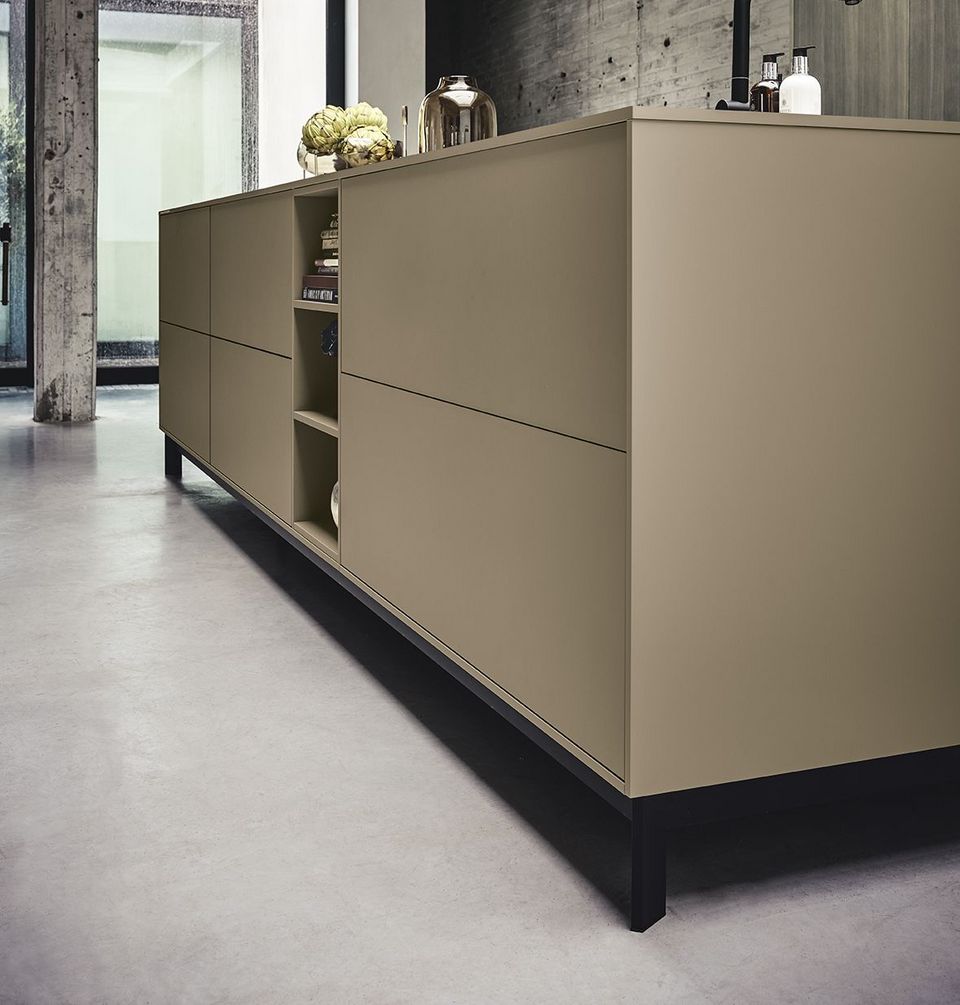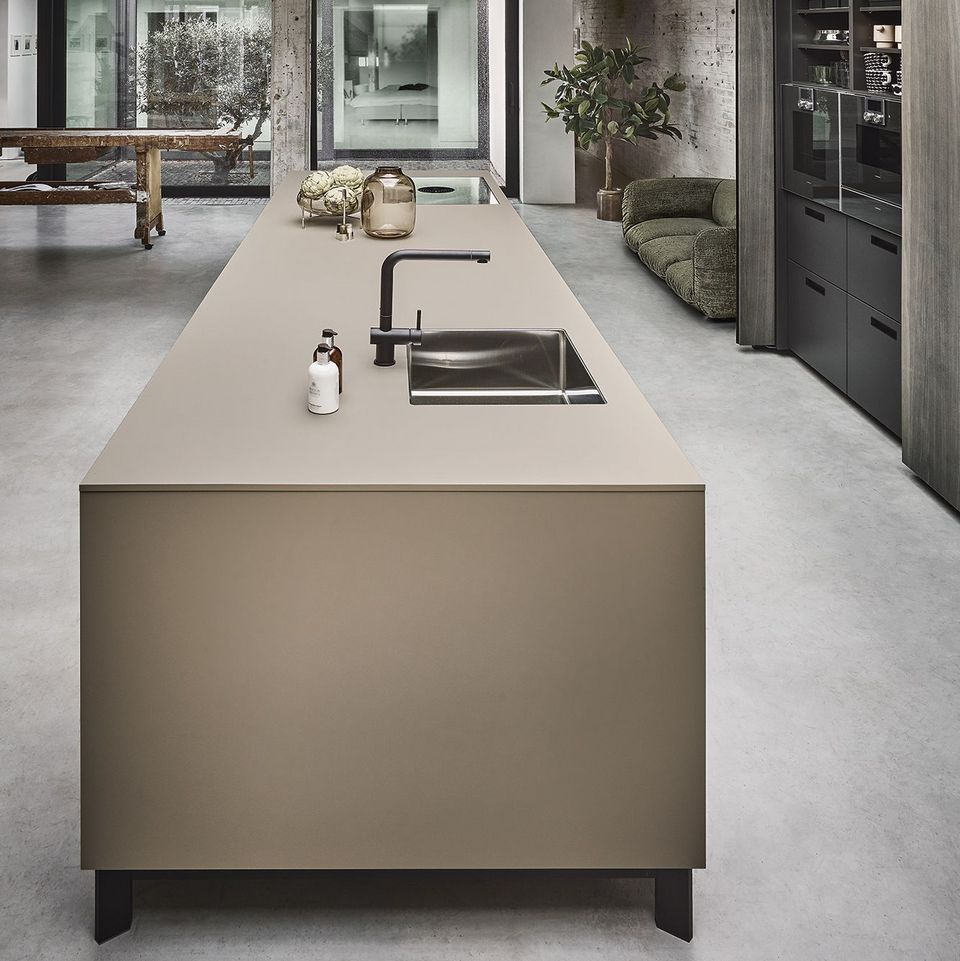 The cooking island
The monochrome cooking island seems to almost float on its legs. With its handleless design, it is like a minimalistic block in the room. Behind it is a tall unit with retractable doors, which stylishly conceals the other kitchen appliances and gives the room the desired peaceful feel when closed.
The downdraft extractor flush-mounted in the worktop eliminates the need for an extractor hood, thereby creating more space above the island.
The Pocket System
A cupboard that is a whiz at hide and seek. Closed it looks like household furniture, open it reveals its true range of functionality. All it takes is a light tap and the retractable doors spring open. Behind them lie the oven, steamer and much more – all beautifully hidden away. The fine wood veneer exterior and harmoniously coordinated shade of lacquer on the interior have been consciously selected.
"This made the tall unit with retractable doors the ideal choice as you can quickly hide appliances or kitchen utensils when you don't need them."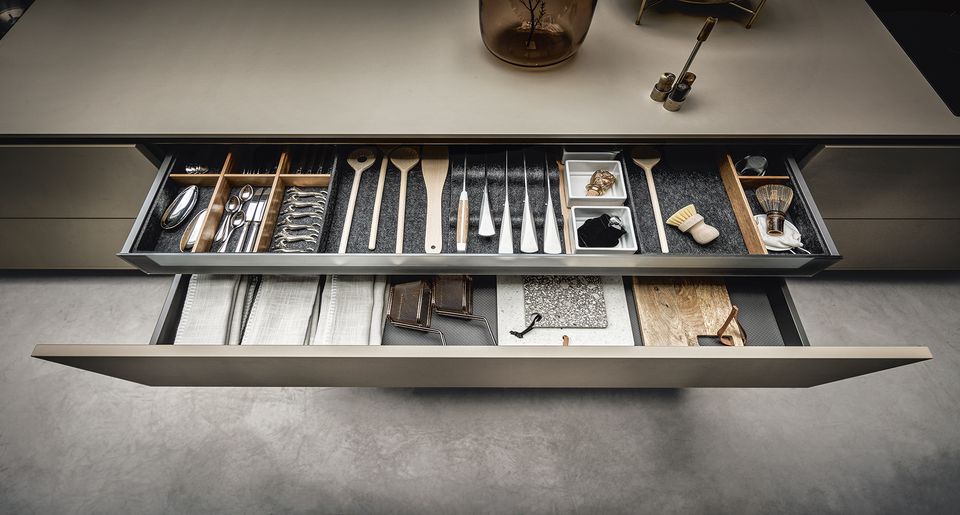 The Flex-Boxes
A practical solution: the internal drawer partitions are made of moulded non-woven material that is pleasant to the touch.
More information about the Flex-Boxes
display unit
If you're a hunter and collector with a penchant for beautiful things, then you can build up quite a hoard over time. In such cases, glass display units are the perfect solution. They can be used to present all of your treasures free of dust and you can retain a clear picture of what you possess. Of course, you can also just use them to store glasses and crockery for everyday use, but that wouldn't be as much fun.
Material and colour
Fronts and worktop
The kitchen shows a combination of matt velvet lacquer in Sahara beige and a wood decor in oak elegant pearl grey. The silky soft matt lacquer fronts are particularly durable thanks to the several coats of lacquer. The wood decor with its neutral shade is the ideal combination partner for matt lacquers in bright colours.
NX 510
Matt velvet
lacquer
NX 510 L202M
Sahara beige matt velvet AFP
NX 640
wood
decor
NX 640 F644
Elegant oak pearl grey
Worktop
Fenix
K202F
Fenix Sahara beige fine matt AFP
Planning features
Ranges, features & interior design
Island frame (island in Sahara beige matt velvet) with with matching Fenix worktop by Systemo | tall unit with four retractable doors with interior equipment in lava black satin and illuminated recess panel | interior equipment with Flex-Boxes in moulded non-woven material mottled anthracite
© Copyright 2018 next125 & Schüller Möbelwerk KG.
All rights reserved.